Father – Local Publican Robert Lebbell
Emma Le Grice was born Emma Lebbell in the village of Great Ellingham. The day of her birth was either at the very end of 1842 or just into 1843, as she was baptised in the Church of St James on the 8th January. Her parents were local publican Robert Lebbell and his wife Elizabeth (née Barnard).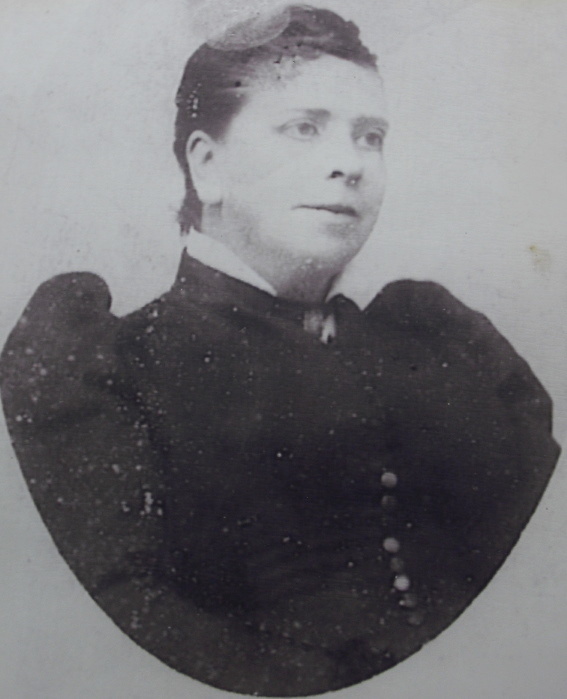 Emma Le Grice née Lebbell. Daughter of blacksmith and publican Robert Lebbell. Photograph courtesy of Susan Fay
Although she left the village with her husband soon after (or within a few years of) her marriage, Emma returned to Great Ellingham in later life.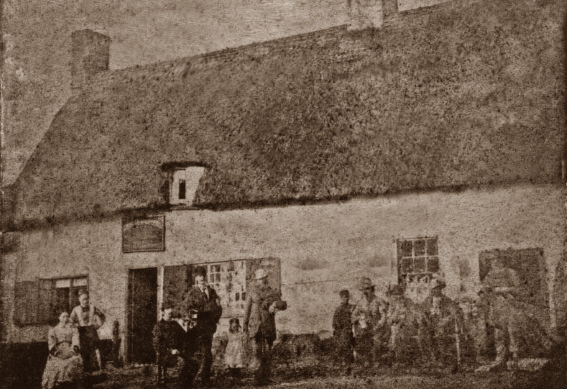 Chequers Public House during the tenure of Landlord Ellis Carter. Courtesy of Ray Beales
Home in Later Life
What may have been her last home is the northern end of a double cottage in Chequers Lane. The cottage is very near to the Chequers Public House where her father, Robert Lebbell, was once the landlord. Indeed, it is possible that Emma was born at the Chequers. However, I am uncertain whether Robert Lebbell moved from the Chequers Inn to the Crown Inn before or after Emma's birth.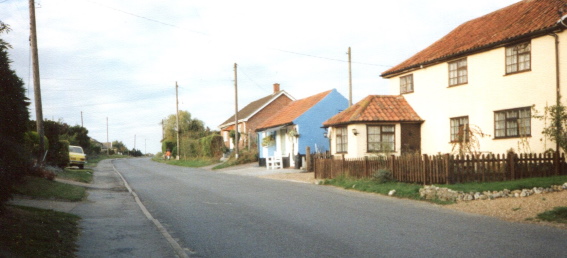 The above photograph taken in the 1990s shows the cottage (with the brown door) where Emma Le Grice lived during the last few years of her life.
Emma's nephew, Claud Lebbell, recalled dropping in at his aunt Emma's home in Chequers Lane on his way to school, particularly on a 'Drawing Day' to collect a flower. In those days, turning up to school without a flower on the day in question more often than not resulted in the cane!
Early Childhood
The first national census to capture Emma is the 1851 census. 8 year old Emma is with her parents, Robert and Elizabeth Lebbell and her older siblings, 14 year old Robert and 11 year old Harriet, at The Crown Inn in Church Street, Great Ellingham. In addition to being the landlord of The Crown, Robert Lebbell was also a blacksmith.
Emma was 12 years old when her sister Harriet died at the age of 15 in February, 1855.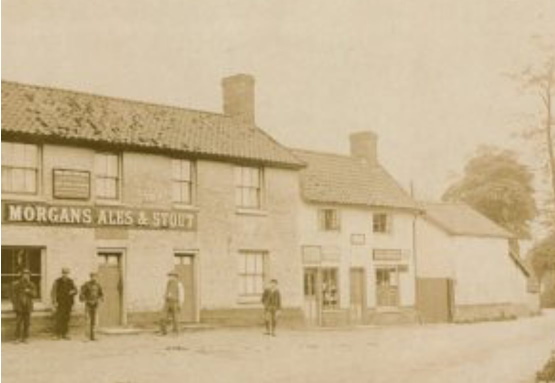 Crown Inn with adjoining shops. Postcard courtesy Carol Ewin
1861 Census
The Lebbell Family at The Crown
The 1861 census finds 18 year old Emma with her parents (now aged 57 and 49 respectively), and her brother Robert still at The Crown. Robert Lebbell senior is still the licensee and still working as a blacksmith.
The Le Grice Family nearby in Church Street
Also living in Church Street at this time, is 33 year old miller Robert Le Grice with his 31 year old wife Rosina and children Harriet 5, Albert 3, Walter 2 and infant Herbert.
Robert Le Grice was the miller at the tower mill, which I believe was owned by his brother Samuel Le Grice. 29 year old Rockland born and baker's assistant John Wyer is also with the household, as well as 15 year old Caston born servant Hannah Skitmore.
In addition to the children listed on the 1861 census, Robert and Rosina Le Grice had two other children – six year old twins Charles and Charlotte.
The census captures Charles with his uncle 25 year old grocer and draper Saul Le Grice and his wife Harriet in Market Place, Holt. Charlotte is with her maternal grandmother, 51 year old Eliza Burrell in Bridge Street, Fakenham.
Given that Rosina Le Grice had recently given birth to Herbert, it is likely that the twins had been sent away from home for a short period, whilst their mother recovered from the birth.
With the Lebbell and Le Grice families living in close proximity, and particularly that Robert Le Grice may well have frequented the Crown Inn on occasions, I think it is reasonable to assume that the families were known to each other.
Robert Le Grice is Widowed
The 1860s was a turbulent time for Robert Le Grice.
On the 29th August, 1862, Rosina Le Grice died at the age of 32. Robert buried his wife of 9 years in the churchyard of St James's Church on the 4th September. Given that Robert also buried his three week old daughter Minnie just over two weeks later, I think it likely that Rosina died shortly after giving birth to her daughter.
Robert Le Grice was left a widower with six young children. Accordingly, it is no surprise that Robert remarried in 1866. However, it is surprising that he did not remarry earlier.
Emma Lebbell marries Robert Le Grice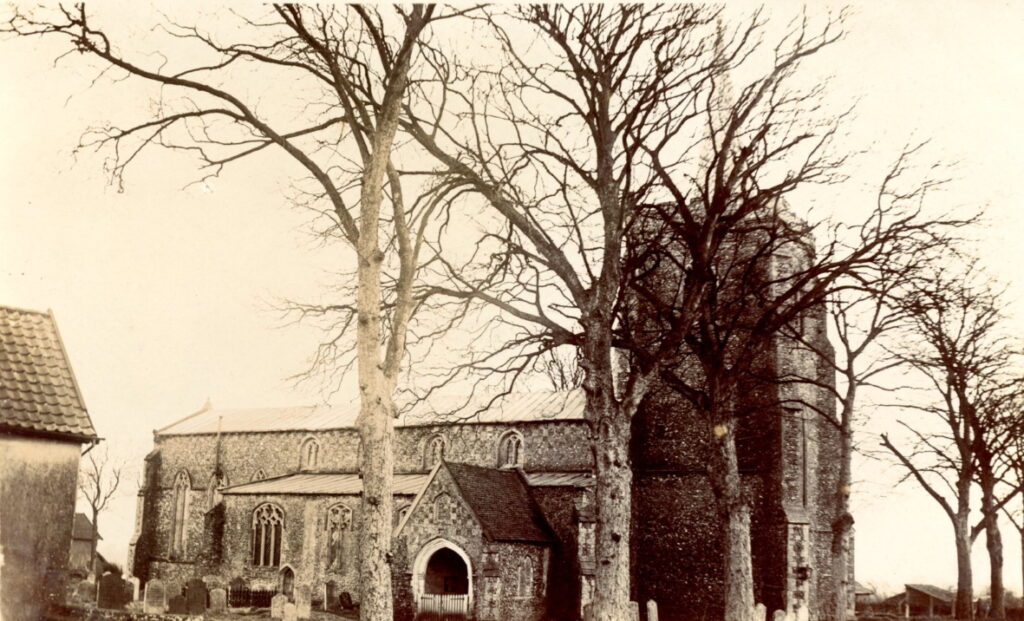 St James's Church, Great Ellingham
34 year old widower Robert Le Grice married 23 year old spinster Emma Lebbell in the Church of St James, Great Ellingham on the 5th July, 1866. Miller Robert Le Grice was the son of local farmer, Robert Le Grice, who had died just three years earlier in June 1863.
Robert Le Grice at East Harling Petty Sessions
Robert was still working as a miller in Great Ellingham in 1867.
At the Petty Sessions held at East Harling in February 1867, Robert Le Grice pleaded guilty to assauting dealer Thomas Fincham at Hockham earlier in the month. He was fined 2s (two shillings) with costs of 17s 6d (seventeen shillings and sixpence).
This was not Robert Le Grice's first offence. He appeared before the same court in March 1858 charged with having a 56lb weight 1½ oz light. His guilty plea was accepted, and Robert received a fine of 5s with 13s costs.
Financial Difficulties
It is also clear that within a year of his marriage to Emma Lebbell, Robert Le Grice was in financial difficulties. We can but wonder whether Robert was already experiencing financial hardship when he married Emma. Was the marriage one of convenience both from a financial aspect as well as a domestic arrangement?
Just over a year after his marriage to Emma Lebbell, Robert Le Grice entered into an agreement with his creditors. In an Indenture drawn up by his solicitor, J C Chittock, of Redwell Street, Norwich, and dated 30th October, 1867, Robert promised to pay to each of his creditors 6s in the £ in relation to each of their respective debts. He promised to pay this amount on the 2nd December of that year. In a Notice pursuant to the Bankruptcy Act 1861, Robert is described as a miller and baker of Great Ellingham.
Bankrupt
The arrangement with his creditors did not resolve Robert's financial problems. By the end of 1869, Robert was declared bankrupt. The following appeared in The London Gazette published on the 24th December 1869:
Robert Le Grice, of Great Ellingham, in the county of Norfolk, Baker and Flour Seller, having been adjudged bankrupt under a Petition of adjudication of Bankruptcy, filed in the County Court of Norfolk, holden in Attleborough, on the 22nd day of December, 1869, is hereby required to surrender himself to Mr George Fairfax Francklin, a Registrar of the said Court, at the first meeting of creditors to be held before the said Registrar, on the 6th day of January next, at eleven o'clock in the forenoon precisely, at the said Court. Mr George Fairfax Francklin, of Attleborough, is the Official Assignee, and Mr M W Brooke, of Attleborough, is the Solicitor acting in the bankruptcy.
Move to South Elmham
It was probably around this time that Robert and Emma Le Grice moved from Great Ellingham.
The 1871 census finds 41 year old Robert Le Grice with his wife Emma 27 and sons Albert 13 and Walter 11 in the parish of All Saints, South Elmham, Suffolk. Robert is working as a miller.
1881 census
By 1881, Robert and Emma moved to Cowlinge, Suffolk. The census of that year finds miller Robert Le Grice at the Miller's House. Emma's mother, Elizabeth Lebbell, died just three days before the census was taken. Accordingly, it is no surprise to find 37 year old Emma Le Grice at The Crown, Great Ellingham with her newly widowed father, Robert, on the night of the census.
Robert Le Grice Dies following Tragic Accident
By 1882, Robert and Emma moved to Loddon, Norfolk, where Robert Le Grice was employed by William Chapman as a foreman at his mills.
On Wednesday, 11th October, 1882, Robert was attending to some duties in the mills when he became entangled in the machinery. He suffered insurmountable injuries, and died within a very short time.
At the inquest held at the Swan Inn, Loddon on the following day, it was found that Robert Le Grice had been in the process of 'altering a strap near the fly wheel of the engine, when by some means he was caught in the wheel'. A verdict of 'accidental death' was returned.
57 year old Robert Le Grice was buried at Loddon on the 14th October, 1882.
Legacy from Father
Within three years, Emma suffered the loss of her father. Robert Lebbell, the publican of the Crown Inn in Great Ellingham died on the 21st January, 1885.
In his will which was drawn up on the 1st April, 1870, Robert Lebbell bequeathed the sum of 4s (shillings) per week to his daughter Emma Le Grice for 'as long as she may live.' Given that Robert Lebbell made his will in 1870 after his son-in-law, Robert Le Grice, was declared bankrupt in 1869, I assume that his intention was to ensure that his daughter had an independent income from her husband. In the event, Emma was a widow at the time of her father's death.
What Happened to Emma during the next 30 years?
I do not know where Emma Le Grice lived and what she did for the next thirty years. I have not been able to find her on either the census of 1891 or 1901.
1911 census
However, the 1911 census captures 66 year old widow Emma Le Grice as housekeeper to 74 year old fowl dealer and widower Robert Palmer in Carleton Rode.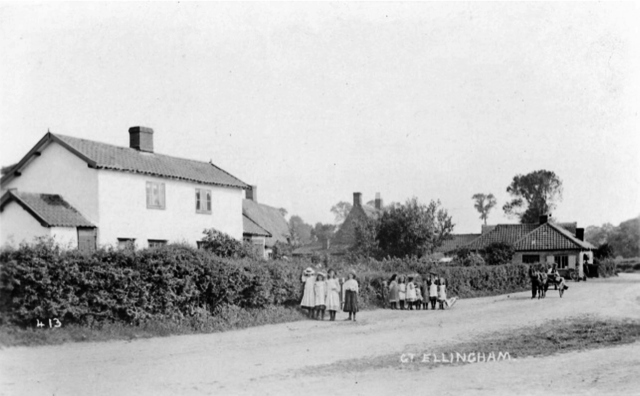 Robert Barnard Lebbell's Smithy to the right. The double cottage which may have been occupied by his sister Emma Le Grice is to the rear of the Smithy
By 1917, Emma was back in Great Ellingham and living in her brother's cottage – believed to be the double cottage near to Robert Barnard Lebbell's Smithy in Long Street.
Death of Brother, Robert Barnard Lebbell
Emma's brother, Robert Barnard Lebbell, died in Great Ellingham on the 29th July, 1924. In his will dated 1st June 1917, Robert bequeathed his cottage to his daughter, Mary Elizabeth Purdy (née Lebbell), on the condition that his sister Emma Le Grice is allowed to continue to live in the cottage rent-free for the rest of her life.
By all accounts, Robert Barnard Lebbell's double cottage in Long Street was in a bad state of disrepair. Accordingly, I do not know for how long Emma Le Grice occupied her brother's cottage.
The electoral registers for 1920 and 1923 show 'Emma Grice' living in The Street in Great Ellingham.
Cottage in Chequers Lane – Probably Emma's Final Home
At the very end of her life, Emma Le Grice's home was the northern end of the double cottage in Chequers Lane. She may have gone 'full circle' and ended her days just a stone's throw from where she was born.
No doubt Emma would watch many children (including her niece and nephews) make their way along Chequers Lane to the Board Schools in Hingham Road.
Emma Le Grice died at the age of 75. Her burial took place in the churchyard of St James on February 8th, 1926.
Sources:
Great Ellingham Parish Registers. Norfolk Record Office. PD 609. Also available at www.familysearch.org
1841 census HO107/781/8
1851 census HO107/1823/133
1861 census RG9/1237/91, RG9/1245/68, RG9/1203/26
1871 census RG10/1774/37
1881 census RG11/1974/92, RG11/1823/56
1911 census RG14/11458/138
Norfolk Chronicle 25th June 1853*
Norfolk News 6th September 1862*
Norwich Mercury 13th March 1858*
Norfolk News 23rd February 1867*
Norfolk News 2nd November 1867*
Norwich Mercury 14th October 1882*
*Viewed via www.britishnewspaperarchive.co.uk 18th January 2022
Loddon Parish Registers. Norfolk Record Office. PD 595. Viewed via www.ancestry.co.uk
Robert Lebbell. Died 21st January 1885. Probate 29th April 1885. Norwich. Copy obtained from https://probatesearch.service.gov.uk/
Robert Barnard Lebbell. Died 29th July 1924. Probate 19th August 1924. Norwich. Copy obtained from https://probatesearch.service.gov.uk/
England & Wales Electoral Registers 1832-1932. Southern Parliamentary Division of the County of Norfolk. Polling District of Great Ellingham. Archive: The British Library Archive reference: SPR.Mic.P.18/BL.N.18
The London Gazette Publication date 24 December 1869 Issue 23569 Page7361
Huge thanks for Sue Fay