Whether William Miller saw an advertisement in the local newspaper offering a new and better life in Australia, or he knew of a family who had taken (or was about to take) such a journey, 39 year old William Miller with his wife and children emigrated from Great Ellingham to Australia in 1852.
Born in Littleport
William had been born in Littleport (in what is now East Cambridgeshire) on the 10th July, 1813. His parents, Isaac and Susanna Miller (neé Jessup), moved to Great Ellingham after William's birth, but before the baptism of William's siblings George and Mary Ann on the 12th April, 1818 at the parish church of St James.
Marriage to Sarah Long
William Miller and Sarah Long married in the same parish church at Great Ellingham on the 2nd November, 1836. Their first born, Mary Ann, was born the following year and baptised (again in the same church) on the 10th September, 1837. Around eighteen months later, the couple welcomed their second daughter, Maria, who was also baptised in the local church on the 24th February, 1839.
Sadly, William and Sarah buried their two year old daughter Mary Ann, aged just 2 years, in the churchyard on May 5th, 1840.
The 1841 census finds agricultural labourer William Miller with his wife Sarah and two year old daughter Maria living in Great Ellingham.
William and Sarah had six further children: George in 1841, Mary Ann followed in 1842, Edward two years later in 1844, Elizabeth 1846, Elizabeth 1848 and Elizabeth 1850. Of these six children, only George and Mary Ann survived infancy.
Tragically for the family, 38 year old Sarah Miller died in April 1850 and was buried in the churchyard at Great Ellingham on April 10th. William was left a widower with four young children, one of whom was a newly born baby daughter, Elizabeth. Elizabeth may well have been born just days or hours before Sarah's death.
Marriage to Sarah Ann Bunnett
Just six months after Sarah Miller's death (and two months after burying his infant daughter Elizabeth), William remarried. A marriage between widower William Miller and spinster Sarah Ann Bunnett took place in the parish church at Great Ellingham on the 16th October, 1850. Both were said to be of Great Ellingham. William was then around the age of 37 and his new wife, Sarah Ann, several years his junior. Their respective father's names are stated in the register of marriages to be labourers Isaac Miller and James Bunnett.
The Miller family is captured on the 1851 census living at Low Common, Great Ellingham. William aged 38 is described as a farm labourer. Born in Attleborough, Sarah Ann is said to be 28 (although the later passenger list suggests her to be younger). William's three surviving children from his marriage to Sarah (neé Long) are with William and Sarah Ann – Maria aged 12, George 10 and eight year old Mary Ann.
Around seven months later, William and Sarah Ann's first child Emma Rebecca was born. Emma was baptised in the parish church at Great Ellingham on the 12th October, 1851.
Passengers on the 'Persian' bound for Australia
Just a year later, 39 year old William Miller with his pregnant wife Sarah (said to be 25), and children Maria 13, George 10, Mary 7 and one year old Emma, boarded the clipper ship 'Persian' which sailed from Devonport, Devon for Australia on the 18th September.
The passenger list for the 'Persian' arriving in Melbourne, Australia on the 27th December, 1852 shows the Miller family to be 'unassisted passengers' which meant that that they paid for their own tickets (or that they were privately sponsored). Some 'assisted' emigrants had the passage paid as an alternative to receiving poor relief.
Even though the Miller family were unassisted' passengers, I wonder whether William Miller received some charitable assistance at parish level. Although a scheme for the management of the 'Fuel Allotment Charity' in Great Ellingham was registered with the Charity's Commission in 1873, the charity was operating much earlier. One of the objects of the Charity allowed for the use of charitable funds towards assisting emigration.
Sarah Miller gave birth to daughter Rebecca during the voyage. However, it seems likely that one year old Emma did not survive the journey.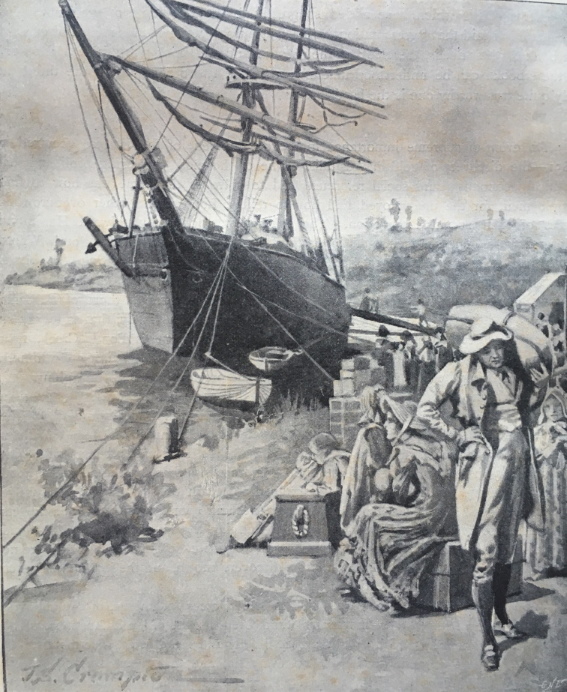 'Early Settlers Landing in Australia' J.S. Crompton. Image taken from 'The Life of a Century' by Edwin Hodder published 1901
It was reported in the Melbourne newspaper 'The Argus' in 1852 that the 'Persian' brought 619 immigrants. Thirty four deaths from fever and dysentery were reported with 'still much sickness on board'. The vessel was quarantined on arrival in Melbourne. We can only imagine what the Miller family endured during their three-month voyage with over-crowding and poor sanitation.
Further Children
Between 1854 and 1873, William and Sarah Ann Miller had ten further children in Victoria, Australia. In total, William Miller had 20 children!
At the age of 73, William died on the 10th August, 1886 at Pleasant Bank, Merri River, Warrnambool, Victoria some 10,000 miles from his place of birth. The registration of his death gives William's occupation as a farmer.
He was buried in the cemetery in Warrnambool. William Miller was likely a member of the Wesleyan Baptist Church. The entry of his death records that Wesleyan Minister Nathaniel Bennett officiated at the burial.
William's widow, Sarah Ann Bunnett Miller, survived William by around 28 years. Sarah died on the 7th September, 1914 aged 84 or 85. This suggests that Sarah Ann was some 16 years younger than William Miller. Sarah is also buried in the cemetery at Warrnambool.
Sources:
1841 census HO107/781/8
1851 census HO107/1823/125
Great Ellingham Parish Registers. Norfolk Record Office. PD/609. Also available at FamilySearch.org https://www.familysearch.org/search/image/index?owc=4J8C-CB7%3A29627201%3Fcc%3D1416598
Find A Grave website. https://www.findagrave.com/memorial/140465717 Accessed 13.05.2020
GRO Index. https://www.gro.gov.uk/ Accessed 13.05.2019
Leggett family (Bet Bet & Berrimal) Genealogy. https://dalmura.com.au/genealogy/Leggett/Persian.PDF accessed 14.05.2020
Argus_9 Mar 1932-My Lore. http://www.mylore.net/files/Download/Argus%209%20Mar%201932.pdf Viewed 13.05.2020
1886 Deaths in the District of Warnnambool in the Colony of Victoria. No. 1453 William Miller.
Assisted Passenger Lists (1839-1871) Record Series Number (VPRS):14. Public Record Office Victoria. https://prov.vic.gov.au/explore-collection/explore-topic/passenger-records-and-immigration/assisted-passenger-lists Accessed 14.05.2020
England Emigration and Immigration. FamilySearch. https://www.familysearch.org/wiki/en/England_Emigration_and_Immigration accessed 14.05.2020
Hodder, Edwin. 1901. The Life of a Century. London: George Newnes Ltd., Southampton Street, Strand. Image of Early Settlers Arriving in Australia. Crompton, J.S. Page 466
Grateful thanks to Margaret Brown