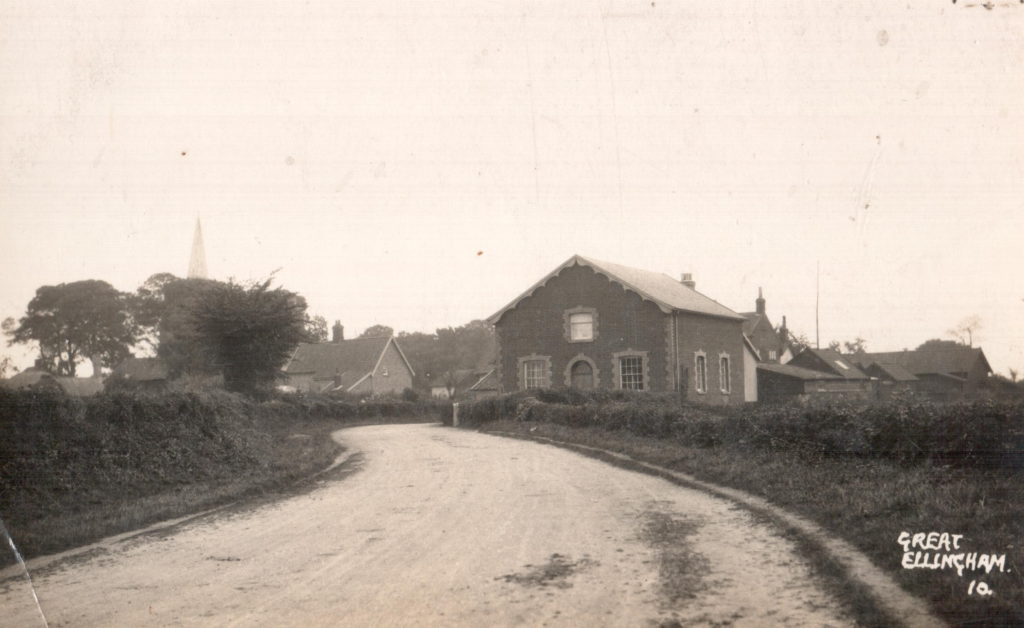 Church Street. Methodist Church. Postcard courtesy of Carol Ewin
At the age of 75, Edward Howchen was laid to rest in the cemetery in Wymondham in the August of 1892.
The 1891 census captures Edward Howchen with his wife Maria living in Middleton Street, Wymondham. The census tells us that Edward was a Primitive Methodist Minister, and that he was born around 1817 in Great Ellingham. His wife, Maria, was born in New Walsingham (Little Walsingham).
I think it worth mentioning that it is common to find variations of this particular surname in the records. For example, Howchen, Howchin, Houchen and Houchin. We know from Edward's signature in the marriage register in 1845, that he used the spelling 'Howchen'.
Early Life
Edward was baptised in the Parish Church in Great Ellingham on May 25th, 1817. His parents, labourer Robert Houchin and Anne neé Rayner, had married in the same church two years earlier on the 6th February 1815. At the time of the marriage, Robert Houchin was living in Great Ellingham and Anne in the nearby town of Attleborough.
Not long after his baptism, Edward moved with his parents to nearby Rocklands. His siblings Keziah, James, Ellis, Charles, Benjamin and Sarah Ann were all baptised in the Parish Church of Rockland All Saints between 1818 and 1838. However, the 1841 census (which captures the Houchin family in Rockland All Saints), suggests that Robert and Ann Houchin also had children Hannah and Zachariah.
Marriage to Maria Priest
Although by then a Primitive Methodist Minister, Edward Robert Howchen married Maria Priest in the Parish Church of Little Walsingham on July 10th, 1845. The marriage entry records that Edward Houchen was, at the time of the marriage, living in Peterborough. Although Edward signed the register with the name Howchen, the clerk entering the details wrote Houchen.
Married Life
The 1851 census captures the couple, now in their early thirties, living in Church Square, Mattishall. By 1861, Edward and Maria had moved to Briston. No children are listed with the couple on the various census returns. Further, I cannot find any evidence of the couple having children.
Ten years later, and now in their fifties, Edward and Maria Houchin are living in Town Green, Wymondham.
The cenus of 1881 captures the couple in Pople Street, Wymondham, Edward (now aged 64) had retired. He is described as a 'Superannuated Minister of the Primitive Methodists Commission'.
The Methodist Church website 'My Primitive Methodists' provides further information, as well as a photograph of Edward Howchen.
Sources:
Find A Grave website. https://www.findagrave.com/memorial/185540149 accessed 13.04.2020
1841 census HO107/781/14
1851 census HO107/1824/197
1861 census RG9/1203/68
1871 census RG10/1825/55
1881 census RG11/1956/24
1891 census RG12/1535/20
Great Ellingham Parish Registers. Norfolk Record Office PD/609. Also available at FamilySearch.org https://www.familysearch.org/search/image/index?owc=4J8C-CB7%3A29627201%3Fcc%3D1416598
Little Walsingham Parish Registers. Norfolk Record Office PD/582. Also available at FamilySearch.org https://www.familysearch.org/ark:/61903/3:1:S3HT-DT37-Z5?owc=4J6P-ZVX%3A29821001%3Fcc%3D1416598&wc=4J6P-8QG%3A29821001%2C29373001%2C29411501&cc=1416598
Rockland All Saints Parish Registers. Norfolk Record Office PD/335.Norfolk Family History. https://www.norfolkfhs.org.uk. Transcript of Rockland All Saints Baptisms 1811-1896 viewed 03.06.2020