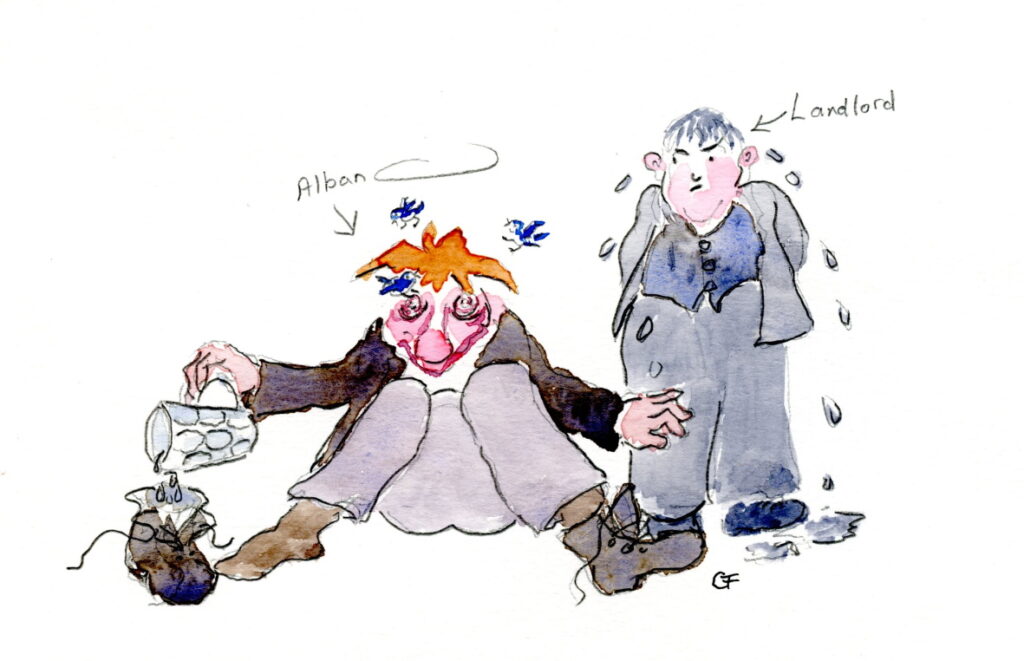 Illustration by Christine Fuller
Appearance at Court
Alban Bass, a labourer of Great Ellingham, appeared before the Magistrates at the East Harling Petty Sessions in August 1884.
He was charged with being disorderly and failing to quit the Prince of Wales Inn at Great Ellingham when requested to do so by the Landlord. Alban Bass was also charged with assaulting the Landlord, Benjamin Lane. The offences took place on 29th July.
Alban was convicted of both offences and was fined 16s for the first offence and fined (with costs) a total of £1 5s 6d for the assault.
Alban Bass
Alban Bass, the son of Benjamin and Charlotte Bass, was baptised in the Church of St James, Great Ellingham on 7th September 1862.
The census returns of 1871 and 1881 show Alban and his sister Adeline (Adelina) with their grandparents Samuel and Rebecca Chaplin in Bow Street, Great Ellingham.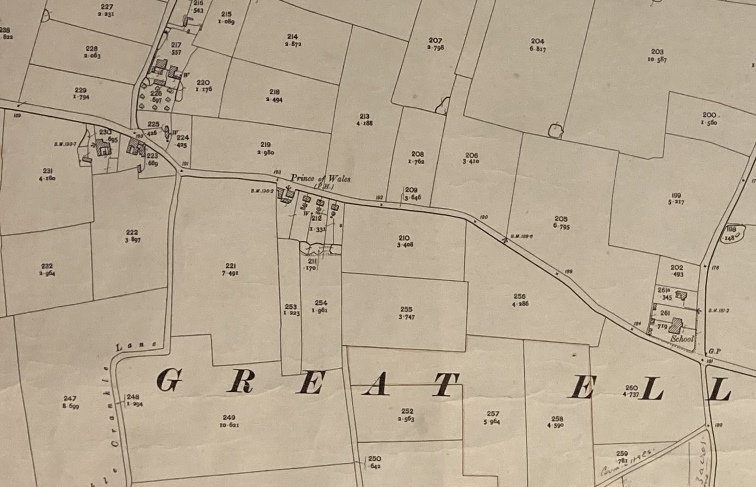 Extract from 1906 Ordnance Survey Map. Second Edition. Surveyed in 1881. Author's Collection
The Prince of Wales Inn was on the road from Great Ellingham to Rocklands, not far from the junction with Bow Street. The above extract of a 1906 Ordnance Survey map shows the location of the Prince of Wales.
The 1891 census captures 28 year old Alban lodging with Isaac and Martha Skitmore and their family at The Green, Little Ellingham. Alban is working as a labourer.
Alban Bass married Thirza Houchen towards the end of 1892 in the Wayland District. Sadly, Thirza died at the age of 36. She was buried in the churchyard at Great Ellingham on 27th May 1895.
By 1901, Alban was living at Brick Kiln Cottages on the Hingham Road in Great Ellingham.
Alban was still living in Great Ellingham at the time of the 1911 census. This census shows that Alban had one child.
On 23rd July 1925, Alban Bass was also buried in the churchyard of St James. He was aged 63 yrs.
Sources:
1871 census RG10/1841/80
1881 census RG11/1974/84
1891 census RG12/1549/87
1901 census RG13/1867/73
1911 census RG14/11473/17
Great Ellingham Parish Registers Norfolk Record Office PD/609. Also available at FamilySearch.org https://www.familysearch.org/search/image/index?owc=4J8C-CB7%3A29627201%3Fcc%3D1416598
GRO Index – also available at https://www.freebmd.org.uk/