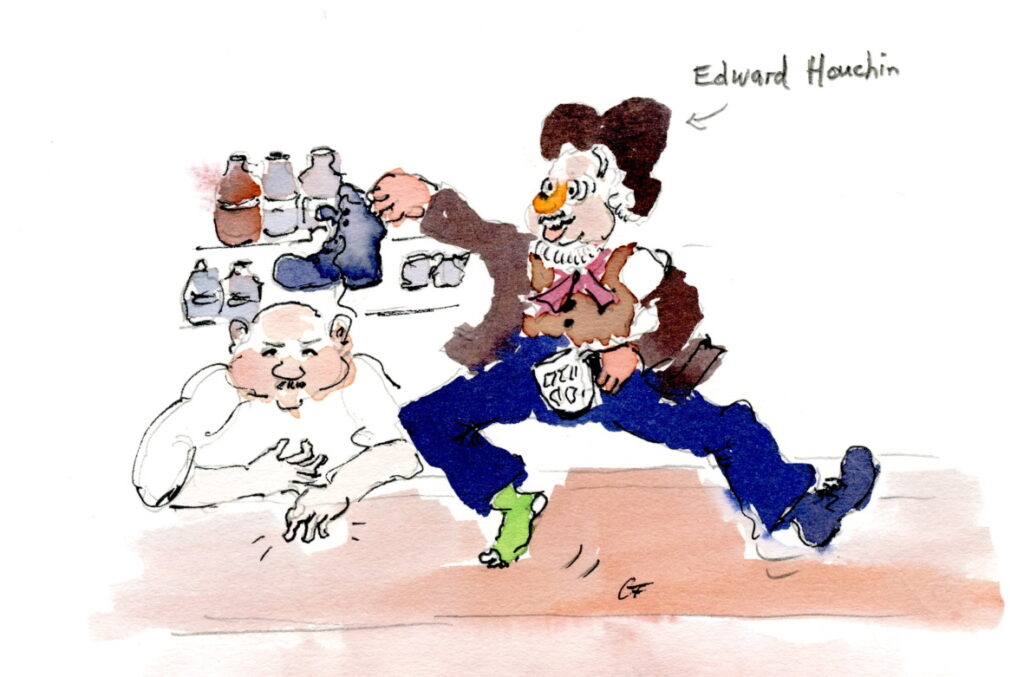 Illustration by Christine Fuller
Court Case
Edward Houchin, a blacksmith, of Great Ellingham was summoned to appear before the Magistrates at the East Harling Petty Sessions by the landlord of the Prince of Wales Public House, Benjamin Lane.
Houchin was charged with being drunk and disorderly and failing to quit the Prince of Wales when requested to do so by the landlord. The alleged offence took place on the 12th November, 1875 and a report of the hearing appeared in the Norfolk News of 4th December.
Edward Houchin was represented by Mr W H Daly who called two witnesses on his behalf. Mr Daly also addressed the Bench suggesting that there was also blame on the part of the landlord, Benjamin Lane. In the event, the case against Edward Houchin was dismissed.
However, that was not the end of the matter for Edward Houchin. Following the dismissal of the charge of being drunk and disorderly (and failing to quit), Edward Houchin was then charged with assaulting Benjamin Lane at the Prince of Wales at the same time as the earlier offence. Houchin admitted the assault and was fined 10s and costs.
Edward Houchin
The name Houchin, with variations such as Houchen and Howchin, is a common name to Great Ellingham. I will use the name 'Houchin' whether or not this spelling is found in any particular record.
Son of Robert and Sarah Houchin
Edward Houchin was a local man. Born in Great Ellingham at the beginning of the Victoria era, Edward was baptised in the Church of St James on the 25th February, 1838. He was the second son for shoemaker, Robert Houchin and his wife Sarah. Baptisms for other sons of Robert and Sarah appear in the Great Ellingham Parish Registers: Robert baptised in 1833, Albert in 1840 and George in 1843.
The 1841 census captures three year old Edward Houchin with his parents, Robert and Sarah, together with brothers 8 year old Robert and one year old Albert in Great Ellingham. I believe they were living in Church Street.
Ten years later, the census of 1851 shows the Houchin family still living in Church Street. Robert Houchin and his family appear to be experiencing a period of hardship. The census states that 49 year old Robert was reliant on 'parish relief'. 12 year old Edward was working as a bricklayer's boy and would likely be bringing home a wage. However, any wage earned by Edward would be well short of an amount sufficient to support his parents and brothers.
Nevertheless, life seems to have improved for this Houchin family by 1861. The census of that year finds 22 year old Edward Houchin working as a blacksmith for John Wingfield at the 'Half Moon' in Deopham. The census describes 51 year old John Wingfield as blacksmith, farmer and innkeeper. Edward's parents, Robert and Sarah, are now living in Long Street, Great Ellingham. Robert is back working as a 'cordwainer' (shoemaker). The earlier census of 1841 describes Robert as a shoemaker. At 19, Edward's brother George is still living with his parents. George is also in work as a carpenter.
Marriage to Martha Barnard
Some eight months after the 1861 census was undertaken, 23 year old Edward Houchin, a blacksmith of Great Ellingham, married local girl 18 year old Martha Barnard, the daughter of labourer, William Barnard. The marriage took place at the Church of St James, Great Ellingham on the 27th December, 1861.
Children of Edward and Martha Houchin
Although baptised in the Parish Church at Great Ellingham on the 18th May 1862, the couple's first child Hannah Susanna was born in Deopham. Hannah was followed by Diana (Dinah) in 1863, Sarah Ann in 1864 in Great Ellingham, Robert Edward 1865 born Deopham, Mary Sophia 1868 in Deopham and Edward Albert 1872 in Great Ellingham.
The 1871 census captures 33 year old blacksmith Edward Houchin with his 27 year old wife Martha and five children living in Church Street, Great Ellingham.
In September of 1872, Edward and Martha buried their nine year old daughter Diana in the churchyard of St James.
By 1881, the Houchin family had moved to Wood Lane, Little Ellingham. They were still living in Wood Lane in 1891 by which time Edward and Martha had only Robert and Albert (Edward Albert) living 'at home'. Edward was still working as a blacksmith and was now assisted by his youngest son, Albert (now 18). Son Robert was also working as a farm labourer.
The 1901 census finds 63 year old Edward Houchin and wife Martha living at Anchor Corner, Rockland All Saints. Their five surviving children had all 'left home'.
Edward Houchin died in 1905 aged 67 years. Although living in Rockland at the time of his death, Edward was buried in the churchyard at the Parish Church of Great Ellingham on March 5, 1905.
Widow Martha Houchin
The 1911 census finds Edward's widow Martha (now 67) living in Rockland All Saints. Her 44 year old unmarried son Robert (now a blacksmith) is living with his mother. Given that the census of 1901 states Edward and Martha to be living at Anchor Corner in Rockland All Saints, it is quite possible that Martha was still in the same home she shared with Edward until his death.
I believe that Martha Houchin died in 1924. A death was registered for Martha Houchin in the Forehoe District between July and September of that year.
Sources:
Norfolk News 4th December 1875
GRO Index. https://www.gro.gov.uk/
GRO Index. FreeBMD website. https://www.freebmd.org.uk/cgi/information.pl?cite=jRU78EwzBVdXPA2neVmLsg&scan=1 Accessed 03.02.2020
Great Ellingham Parish Registers. Norfolk Record Office PD/609. Also available at FamilySearch.org https://www.familysearch.org/search/image/index?owc=4J8C-CB7%3A29627201%3Fcc%3D1416598
1841 census HO107/781/8
1851 census HO107/1823/130
1861 census RG9/1237/92; RG9/1222/79
1871 census RG10/1841/89
1881 census RG11/1974/105
1891 census RG12/1549/89
1901 census RG13/1867/106
1911 census RG14/11483/73
Norfolk Pubs website. http://www.norfolkpubs.co.uk/norfolkd/deopham/deophm.htm accessed 03.02.2020