On Saturday, 7th May, 1791, the Norfolk Chronicle published the following notice concerning the affairs of Cornelius Carter.
May 3, 1791
WHEREAS CORNELIUS CARTER of Great Ellingham, in the County of Norfolk, Farmer, having put his affairs into the hands of James Boyce, of the city of Norwich, Attorney at Law, and William Peed, of the same place, Carpenter, all persons who have any demands on him are required to send their accounts forthwith to the said James Boyce or William Peed. And all persons who stand indebted to him are desired to pay the same within one month as above, or they will be sued for the same.
Who was Cornelius Carter and what prompted Carter to put his affairs into the hands of Boyce and Peed?
Born in Great Ellingham
The youngest child and only surviving son of Jacob and Margaret Carter (née Dunham), Cornelius was born in c.1767 in Great Ellingham. Margaret Carter had given birth to another son named Cornelius in 1764. Sadly, this Cornelius died around the age of 2 in January 1766.
Like his siblings before him, and within weeks (if not days) of his birth, Cornelius was baptised in St James's Church.
I believe that it is possible that the Carter family owned and lived at a farmhouse to the southern end of Long Street. This farmhouse was later known a 'White House Farm'. [See my separate blog 'Jacob Carter's Apology for Speaking False & Malcious Words' for a full explanation as to why I believe this is likely.]
Death of Father
Jacob Carter died in the March of 1786 . He was laid to rest in the churchyard of St James on March 9th. Cornelius was then aged 19 and his surviving sisters, Mary Anne 27 and Alice 25.
Legacy
Following his father's death, Cornelius inherited certain pieces of copyhold land of the Manor of Buckenham Castle Outsoken, which his father, Jacob, had purchased from Adam Margerum around 1760.
Given that I believe that Jacob Carter also owned a farmhouse in Long Street, it follows that Cornelius may have also inherited the farmhouse.
Marriage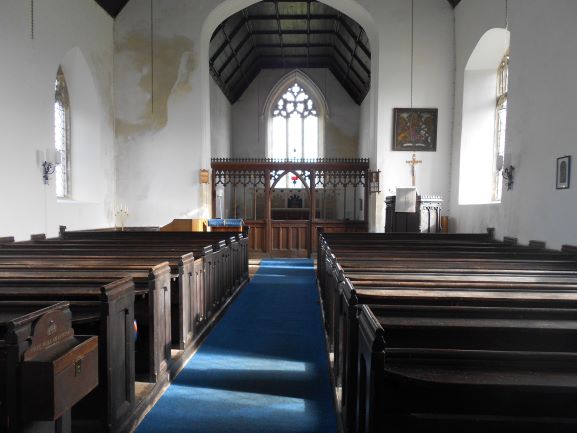 Inside St Botolph's Church, Stow Bedon
On New Year's Day 1787, Cornelius married Jane Martin in her home parish of Stow Bedon.
Children
Following the marrage, the couple settled in Cornelius's home village of Great Ellingham – probably at the farmhouse in Long Street.
The couple had seven known children between 1788 and 1803. They were all baptised in the Parish Church of Great Ellingham:
Mary on the 5th October, 1788, John on July 4th, 1790, Jacob 21st July, 1793, Anne on the 1st March, 1795, Charlotte on November 5th, 1797, Sarah on June 22nd 1800 and James on June 12th, 1803.
Financial Difficulties
Around the beginning of 1791, Cornelius found himself in financial difficulties. Why was this? We know from the notice published in the local newspaper that Cornelius was a farmer. Had the farm been running at a loss and, if so, for how long? Was this due to any mis-management by Cornelius? Or, could it be due to a run of bad harvests, or the conditions in farming at that time?
Whatever the reason, Cornelius probably had little choice but to put his affairs into the hands of attorney James Boyce and carpenter, William Peed. It is likely that William Peed was Cornelius's main creditor.
On the 14th November, 1792, Cornelius 'surrendered' the pieces of copyhold land (which he had inherited from his father) to the Lord of the Manor of Buckenham Castle Outsoken, and, consequently to his buyer, Richard Palmer. I believe Palmer also purchased the farmhouse in Long Street from Cornelius Carter. Likely Cornelius had no other option but to sell his property.
Jeffery Warren's Cottage
A Statement of Claims c.1799 relating to the Inclosures of Great Ellingham, shows Cornelius Carter occuping part of a cottage, yard and garden in Great Ellingham. Henry Beales lived in the other part of the cottage.
In 1799, Jeffery Warren owned five cottages and three messuages (houses with outbuildings and adjacent land) in Great Ellingham, including the cottage occupied by Cornelius Carter and Henry Beales. Some of the cottages were in Bow Street. However, I do not know in which cottage Cornelius and his family lived.
Death of Cornelius Carter
Cornelius was just 39 years of age when he died in early 1806. He was buried in the churchyard of St James's Church on February 5th.
Jane Carter survived her husband by 25 years. She was buried in the same churchyard on the 4th August, 1831 aged 65.
Sources:
Norfolk Chronicle 7th May 1791. Viewed via https://www.britishnewspaperarchive.co.uk 7th November 2021
1799 Statement of Claims. Great Ellingham Inclosure. Norfolk Record Office. Catalogue Ref: MC 2213/118
1753-1847 Manor of Buckenham Castle, Lathes, Close and Priory. Court Book. Norfolk Record Office. Catalogue Ref: MC 1833/8 -MC 1833/16. 1595-1847 also available at https://www.familysearch.org/
Great Ellingham Parish Registers. Norfolk Record Office. PD 609. Also available at https://www.familysearch.org/en/
Stow Bedon Parish Registers. Archdeacon's Transcripts. Norfolk Record Office. PD 562. Viewed via https://www.ancestry.co.uk