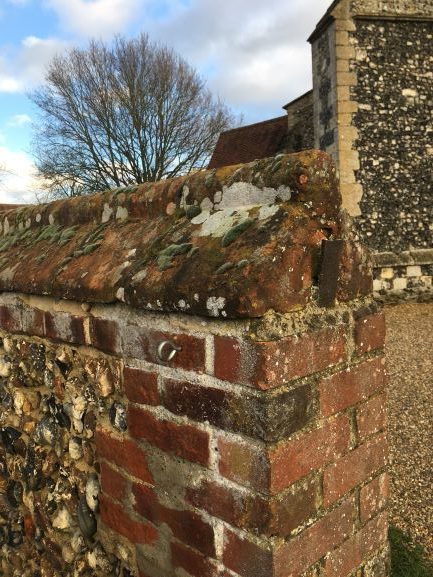 Part of the church wall at Great Ellingham showing the coping stones
According to the author of 'A Little History of Great Ellingham' the coping stones to the northern end of the front wall of the Church of St James, Great Ellingham came from bricks made at Brick Kiln Farm around 1850. It is also said that the same people who made the coping bricks built the tower mill in the village.
1846 Auction of a Brick & Tiled Farmhouse and Brick Kiln and Yard
The Norfolk Chronicle & Norwich Gazette dated Saturday June 6th, 1846, published a notice of the forthcoming Auction of property in Great Ellingham being held at the Griffin Inn, Attleborough on Thursday, 18th June, 1846. The Auctioneers had been instructed by the Executors of the late Robert Large.
Amongst the property for sale was a newly built Brick and Tiled Farmhouse said to be "fit for the reception of a respectable family" with barn, stable, cow-house, granary, cart lodge and other outbuildings together with five inclosures of arable and pasture land. This property, which abutted Hingham Road, was in the occupation of Miss Mary Large.
In addition, a "substantially newly erected double tenement" with gardens and an "excellent Brick Kiln with brick sheds and yard" together with over an acre of "rich land with a great depth of brick earth of first-rate quality" would be sold as a separate lot. All this property was said to be occupied by Mr Robert Large and his under-tenants. The Brick Kiln and Yard was said to be adjacent to the newly built Brick and Tiled Farmhouse.
It was also stated that the Brick Yard "has at this time a good trade, and which from the great demand in the immediate neighbourhood, might be considerably increased."
Further pieces of land adjacent to the Farmhouse, Double Tenement and Brick Kiln were also being sold.
The Executors for the late Mr Large were also selling another newly built Farmhouse which was presently let in two dwellings, with stable, sheds, yards, gardens and further inclosures of arable land.
Large Family
The 1841 census finds 65 year old farmer, Robert Large with his wife Susanna and daughters Harriet and Anne living in Great Ellingham.
By 1851, Robert had died and his 76 year old widow Susanna is living with their unmarried daughter, Mary Anne Large at Stalling Common. Stow Bedon born Mary is described as a farmer of 43 acres. The Large household has servants: 15 year old house servant, Frances Brown, 33 year old farm servant James Howard and a farm labourer 28 year old James Rushbrook described as a lodger.
I believe that Mary Large was living in the newly built farmhouse which was mentioned in the auction details of 1846 (and which is known today as Brick Kiln Farm). Perhaps Mary came to an arrangement with the Executors of her late father, Robert Large, to buy the property or it may be that a purchaser leased back the property to Mary?
Living next door to Mary Large's household is 37 year old Henry Barnard, described as a brickmaker, with his wife and children. I assume Henry Barnard occupied the Brick Kiln and Brick Yard.
Robert Large from Breckles/Stow Bedon
Robert Large came from Stow Bedon or Breckles. He married Susanna West at Breckles on the 20th December, 1797. Children Mary Anne West, William Hastings, Sarah Ann and Robert were baptised in Stow Bedon between 1799 and 1809.
The Large family were in Great Ellingham by 1831. Notice of the marriage of their son William to Elizabeth Clarke appeared in the Norwich Mercury of August 6th, 1831.
The editions of the Norfolk Chronicle of 16th and 23rd May, 1840, published details of property and land occupied by Robert Large being sold at auction. This included about eight acres of land which had been part of Town Green and a Farm House with barn, stable, other farm buildings and just over fifty one acres of arable and pasture land abutting the public highway leading to Hargham (Long Street). Perhaps Robert Large was selling this property to fund the building of the new property in Hingham Road?
It is, of course, possible that it was Robert's son, Robert, who was auctioning the property and land at Town Green and Long Street in 1840. The 1851 census finds the household of Robert Large Jnr and his wife Elizabeth at Lyng White, Hingham – not far from the Mary Large's household at Hingham Road.
Robert Large senior died on 21st September 1843 aged 70 and his wife Susanna on March 28th, 1857 aged 82 years. They are both buried at Stow Bedon.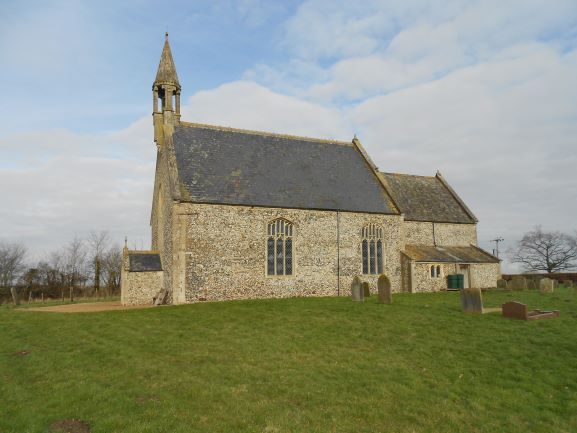 St Botolph Stow Bedon
Sources:
Lebbell, W R & Fay, S. "A Little History of Great Ellingham"
Norfolk Chronicle & Norwich Gazette June 6th, 1846
Norwich Mercury August 6h, 1831
Norfolk Chronicle & Norwich Gazette 16th & 23rd May, 1840
1841 census HO107/781/8
1851 census HO107/1823/117, HO107/1817/252
Breckles Parish Registers. Norfolk Record Office PD/533. Norfolk Family History Society Transcription Breckles Marriages 1624-1930 https://www.norfolkonlinerecordsearch.co.uk/search/Large—-parish–breckles/2160-breckles-marriages/2336618-20.12.1797/ Accessed 12.01.2020
Transcript of Stow Bedon, Monumental Inscriptions 1755-2004. Norfolk Family History Society. https://www.norfolkonlinerecordsearch.co.uk/search/Large—-parish–stow-bedon/2942-stow-bedon-monumental-inscriptions/ Accessed 12.01.2020
Stow Bedon Parish Registers. Norfolk Record Office. PD/562.Transcript of Stow Bedon, Baptisms 1722 to 1922. Norfolk Family History Society. https://www.norfolkonlinerecordsearch.co.uk/search/Large—-parish–stow-bedon–only–birth-and-baptism/2939-stow-bedon-baptisms/ Accessed 12.01.20/20