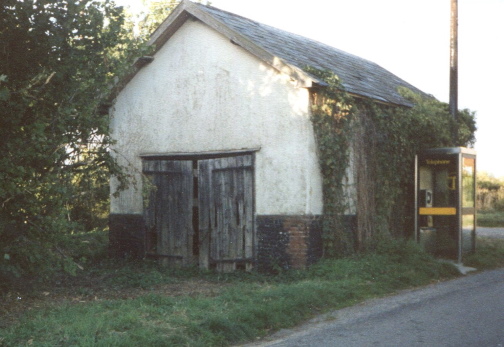 The 1901 census refers to an area near Town Green and Long Street as "Coal House Road". Other census returns which provide the street/area names (1851-1911) do not refer to Coal House Road and the dwellings on this road would likely have been included as being either in Long Street or Town Green.
Coal House Road will have taken its name from the old parish coal house. Built of claylump, the coal house was used to store the coal purchased from the funds from the rents of the "Poors Land" which was then distributed to the poor of the village.
The Norfolk News of December 8th, 1877 reported that on the instructions of the Trustees of the Great Ellingham Fuel Trust, Mr Chilvers of the Griffin Inn in Attleborough had just delivered into the parish coal house, "fifty tons of excellent house coal for distribution to the poor during the winter months".
On 22nd December 1890, the Eastern Daily Press reported that the poor of Great Ellingham wished to "return their thanks to Mr Clarke, Mr Ricebrooke, Mr A T Cockle and Mr Kerrison for carting the poor's coal". The poor of the parish also expressed their thanks to Messrs J P Wich & Sons "for supplying the best coal they have had for years".
The coal would have been purchased with the funds from renting out the allotment land in the village held by the charity.
The Inclosure Commissioner's Particulars and Valuation of 1800 for Great Ellingham, refers to areas for "Poor Firing" – allotments on Broad Common, Pennell Common, Stalland Common. Further, many of the landowners at that time claimed their rights to the cutting and taking of turf and bracken for firing from the commons in the village.
Kelly's Directory of 1896, confirms that the poor (of Great Ellingham) have the benefit of a fuel allotment of 52 acres producing an annual sum of £57 17s 6d.
Who lived in Coal House Road?
The 1901 census records four families living in Coal House Road:
39 year old groom and gardener Walter Dexter lived with his wife Lydia (40) and children John aged 12, Violet 15, Daisy 6 and eight month old Beatrice. Walter's married brother Frederick (a Bricklayer) is with the family on census night.
Both Walter and Lydia were born in nearby Rockland St Peter as was daughter Violet. John was born in Attleborough and the younger two girls in Great Ellingham. The Great Ellingham Parish Registers include a burial for a John George Dexter aged 16 years on 19 January 1905.
Next we have Robert and Ellen Spencer living in a three roomed property. Robert is aged 44 and born in Great Ellingham. His wife Ellen aged 38 was born in Rotherhithe. Robert had been invalided home from the Army and Ellen is taking in washing at home.
Married man Robert Fox aged 68, an Agricultural Labourer is head of a household consisting of his son, William aged 21, and daughter Susannah aged 19 who is described as the Housekeeper. William is a Yardman on a farm. Mrs Fox must be away from home on census night as she does not appear with the family and Robert Fox is not described as a widower.
Finally, 57 year old Farmer John Downes is also living at Coal House Road along with his wife Maria (59) and daughters 25 year old Annie Downes and 32 year old Kate Pease. John's grandsons Reginald and Alginald Pease (aged 7 and 2 respectively) are also with the household.
John and Maria Downes were born in Attleborough, Annie Downes in nearby Rockland All Saints and Kate Pease born in Great Ellingham.
The Coal House building was demolished several years ago.
Great Ellingham Fuel Allotment Charity continues today supporting those individuals of the village in need.
Sources:
Norfolk News of December 8th, 1877
Eastern Daily Press December 22nd,1890
Inclosure Commissioner's Particulars and Valuation 1800 held at the Norfolk Record Office Catalogue Ref: MC 2213/119, 941X7
1901 census RG13/1867/68; RG13/1867/69
Great Ellingham Parish Registers NRO PD/609
Kelly's Directory 1896