In the August of 1852, Rhoda Carter of Great Ellingham appeared before a special sitting of the Petty Sessions at Attleborough.
She was charged with violently assaulting Elizabeth Fame of Hingham. However, the report in the Norfolk News of the 28th August, 1852, did not provide specific details of the offence. Was this just a disagreement which got 'out of hand'?
In the event, Rhoda Carter was convicted. The Magistrates imposed a fine of 5s (five shillings) with costs of 11s 6d (eleven shillings and sixpence). If Rhoda failed to pay the penalty, she would serve 21 days imprisonment in the Bridewell at Wymondham.
However, this was not an isolated offence. The report mentions that Rhoda Carter frequently appeared before the Magistrates on similar charges!
Who was Rhoda Carter?
33 year old Rhoda Carter was the second wife of 59 year old Chelsea Pensioner, Jacob Carter of Great Ellingham.
Rhoda's Husband Jacob Carter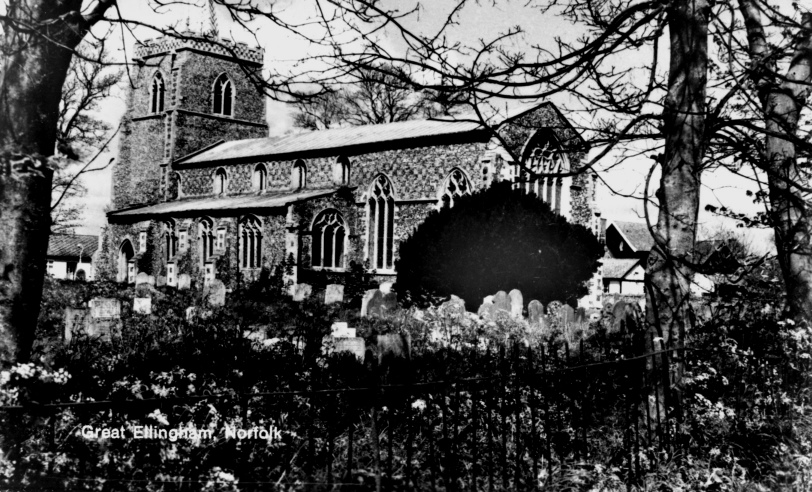 Great Ellingham Church of St James. Postcard BCV
The third child (and second son) of Cornelius and Jane Carter (née Martin), Jacob was baptised in the Parish Church at Great Ellingham on July 21st, 1793.
At the time of Jacob Carter's birth, King George III had already reigned over Great Britain and Ireland for some 33 years. (He would reign for another 27 years!). A Tory government was in control of the country with William Pitt, the Younger, the Prime Minister.
In France, the former King Louis XVI was executed just a few months before Jacob's birth. His wife, Marie Antoinette, would suffer the same fate just a few months after Cornelius's birth.
Napoleon's defeat at the Battle of Waterloo was 22 years away. Jacob Carter's service record mentions that he took part in the 'Waterloo' campaign.
54th Regiment of Foot
In May, 1811, 15 year old labourer Jacob Carter enlisted with the 54th Regiment of Foot at Great Yarmouth.
Standing just five feet tall, Jacob had brown eyes, dark hair and a dark complexion. I wonder whether Jacob had a final growth spurt after joining up? Was Jacob any taller by the time he was discharged from the army?
Jacob served as a Private from the 24th May 1811 to the 30th April, 1822. As mentioned, 'Waterloo' is recorded on Jacob's service record.
After 11 years service, he was discharged from the army suffering from ill health. Jacob's service record also shows that he had scrofulous ulceration of the neck, and his right arm was affected by rheumatism and weakness.
On the 14th December, 1821, Jacob's certificate of discharge was signed and sealed at the Cape of Good Hope. His discharge was later confirmed in the following April at 'Horse Guards'.
Chelsea Pensioner
Following his release from the army, I assume that Jacob returned to Great Ellingham. We know from later census returns that Jacob Carter received an army pension. In fact, on the 1861 census, Jacob describes himself as a 'Chelsea Pensioner'. The Royal Hospital Chelsea (the 'home of the Chelsea Pensioners') distributed army pensions until 1955.
Marriage to Maria Lovett
On the 9th June, 1826, Jacob Carter married local girl Maria Lovett.
The marriage at St James's Church, Great Ellingham, was witnessed by James Turner and Sarah Beales. Along with the witnesses, Jacob and Maria put their mark 'X' in the marriage register. This suggests that neither Jacob nor Maria (nor indeed their witnesses) were able to read and write. However, this was not unusual for the times.
The daughter of Henry and Elizabeth Lovett, Maria was baptised in the same church of St James on January 3rd, 1802.
Jacob and Maria had four sons. Like their parents before them, the infants were all baptised in the Church of St James. William baptised on 22nd April, 1827, James on 12th July 1829, John on 8th April, 1832 and, finally, Robert baptised 19th April, 1835.
Maria Carter died at the age of 36, leaving Jacob a widow with four young sons. Maria was buried in the churchyard of St James on the 3rd August, 1837.
1841
The census of 1841 captures 45 year old army pensioner, Jacob Carter, with his four sons William 14, James 11, John 10 and seven year old Robert living in Great Ellingham. 20 year Rhoda Dunnett is Jacob's housekeeper. Rhoda's 75 year old mother, Susanna Dunnett, is also with the Carter household.
Marriage to Rhoda Dunnett
Just over two months after the census was undertaken, on the 23rd August, 1841, labourer Jacob Carter marries his housekeeper, Rhoda Dunnett. The marriage took place in St James's Church, where, some 15 years earlier, Jacob married Maria Lovett.
1851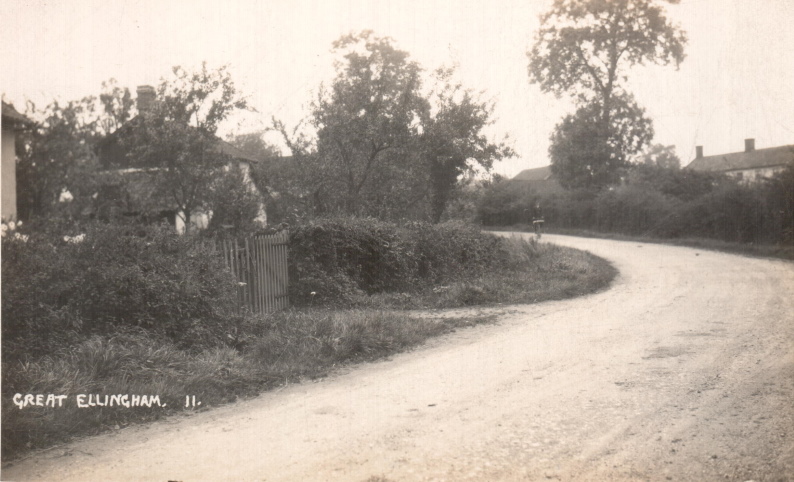 Long Street. Postcard courtesy of Carol Ewin
The 1851 census, carried out just over a year before Rhoda Carter's appearance at the special court in Attleborough, finds Jacob and Rhoda in Long Street, Great Ellingham. 58 year old Jacob is described as an army pensioner. Rhoda's place of birth is shown as Besthorpe.
Jacob's sons, James 22 and John 19, are living with Jacob and Rhoda. They are both working as farm labourers. Rhoda's mother, 80 year old Susanna Dunnett, is still with the household. Susanna is claiming parish relief.
1861
Ten years later, Jacob and Rhoda (aged 72 and 44 respectively), are still living in Long Street. On the night of the 7th April, 1861, Jacob and Rhoda have their 11 year old granddaughter Maria with them. I do not believe that Rhoda had any children with Jacob Carter.
Death of Jacob Carter
Chelsea Pensioner, Jacob Carter, was laid to rest in the churchard of St James's Church, Great Ellingham on February 3rd, 1864. Jacob was 73.
Widow Rhoda Carter
Rhoda remained living in Great Ellingham following Jacob's death. On the 1st October, 1869, the following notice appeared in the 'Situations Wanted' of the Diss Express:
WANTED, by a person between 40 and 50, a situation as HOUSEKEEPER, where there is no family; or in a farm house with or without cows. Good recommendation - Apply Mrs Rhoda Carter, Great Ellingham, Attleborough.
Although the advertisement suggests that Rhoda's age was somewhere between 40 and 50, I think she was probably just over the age of 50. Given Rhoda's many appearances before the Magistrates, I wonder who was prepared to provide the 'Good recommendation'?
Further, it seems that Rhoda was far more comfortable with cows than children!
Marriage to William Bilham
In any event, it seems that widower William Bilham of Roudham may have responded to the advertisement. Rhoda married William Bilham either at the very end of 1869, or in early 1870. A marriage between William Bilham and Rhoda Carter was registered in the Wayland District between January and March 1870.
The 1871 census finds 60 year old shepherd William Bilham with his 60 year old wife Rhoda living in Limmers Cottage, Roudham. I believe Rhoda to be a few years younger than 60. However, I cannot be sure of her age as I cannot find a record of her baptism.
Further Offences
In September 1870, just months after her marriage to William Bilham, Rhoda stood again before the Magistrates. This time before the Bench at the East Harling Petty Sessions.
She was charged with assaulting Sarah Gates, the wife of labourer James Gates, of Roudham. Rhoda was convicted of the offence which took place in Roudham on the 22nd August. She received a fine with costs totalling 14s 6d.
Rhoda was also charged with using threatening language towards Sarah Gates, for which she was bound over in the sum of £5, to keep the peace for three months.
At the same court, Sarah Gates was charged with assaulting Rhoda Bilham at Roudham on the 20th August, and using threatening behaviour. Sarah Gates also received a fine with costs of 14s 6d. She too was bound over to keep the peace for three months.
Six months later, in March 1871, the two women were back before the Magistrates on similar charges. Sarah Gates' son, James Gates, was also brought before the court.
An assault charge against Sarah Gates was dismissed. However, James Gates pleaded guilty to assaulting Rhoda Bilham. He was fined 15s 2d.
Both Rhoda Bilham and Sarah Gates were bound over (with a surety of £10), to keep the peace for six months.
Two months later in May, 1871, Rhoda Bilham again came before the Magistrates at East Harling. She was charged with assaulting Ann Foreman, the wife of labourer, John Foreman, also of Roudham. However, on this occasion the case against Rhoda was dismissed.
What happened to Rhoda Bilham?
Unfortunately after Rhoda's court appearances in 1871, William and Rhoda Bilham's trail goes cold. The 1881 census does not show the couple in Roudham. Accordingly, they may moved away, or died – although I cannot find a likely registration of a death for either of them!
It certainly appears that during her life, Rhoda found herself 'on the wrong side of the law' on many occasions. Was she fiery with a violent nature?
I can only presume that Jacob Carter was aware of Rhoda's 'shortcomings' before they married. After all, Rhoda was his housekeeper prior to the marriage. Were there other factors in Rhoda's life which led her to get into so many fights? I think it is highly likely that Rhoda was involved in other 'incidences'. However, these may not have resulted in Rhoda's arrest!
Sources:
Great Ellingham Parish Registers. Norfolk Record Office. PD 609. Also available at https://www.familysearch.org/en/
Norfolk News 28th August, 1852 Viewed via https://www.britishnewspaperarchive.co.uk/ 5th November 2021
Diss Express 1st October, 1869 Viewed via https://www.britishnewspaperarchive.co.uk/ 5th November 2021
Norfolk Chronicle 10th September, 1870 Viewed via https://www.britishnewspaperarchive.co.uk/ 11th November 2021
Norfolk News 18th March, 1871 Viewed via https://www.britishnewspaperarchive.co.uk/ 11th November 2021
Norfolk News 27th May, 1871 Viewed via https://www.britishnewspaperarchive.co.uk/ 11th November 2021
1841 census HO107/781/8
1851 census HO107/1823/129
1861 census RG9/1237/93
1871 census RG10/1841/116
GRO Index. Viewed via FreeBMD website. https://www.freebmd.org.uk/cgi/information.pl?cite=S4yQwjcOYsDMADv5pPk%2Fqg&scan=1 Accessed 12 November 2021