Town Green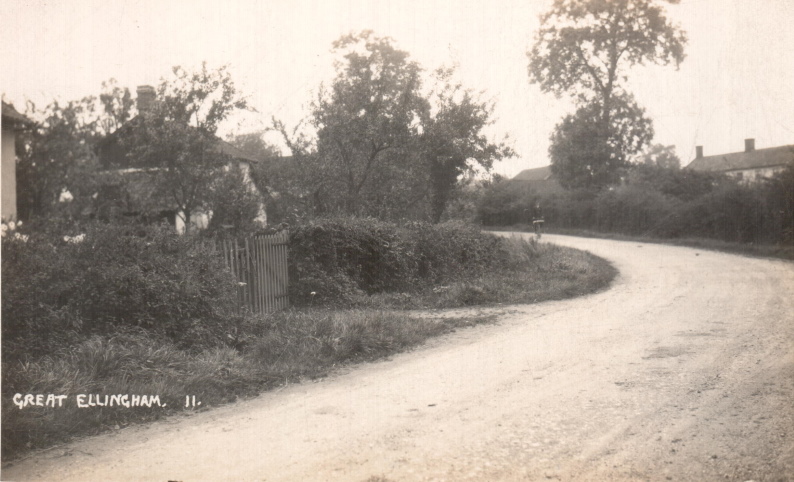 Long Street approaching Town Green. Postcard courtesy of Carol Ewin
In 1851, the inhabitants of Great Ellingham could buy their fish from Charles Carter living in an area known as Town Green. 32 year old Charles and his wife Lucy, were one of at least 37 households at Town Green at that time.
However, ten years later the census of 1861 records only around 17 households in Town Green. I suspect that some of those households included as being in Town Green in 1851 were recorded as being in Long Street in the head count of 1861.
An area called Town Green exists in the village today.
Charles & Lucy Carter
The son of Samuel and Murrell Carter, Charles Carter was born in Great Ellingham about 1818 . He, with his sister Hannah, was baptised in the Parish Church on 28th February 1819. Charles married Lucy Jessoop (Jessup) in the same church on March 5th, 1847. According to the parish register, Lucy was the daughter of carpenter, William Jessoop. She was born about 1816.
There were no children listed with Charles and Lucy Carter on the 1851 census.
1861 census
It has been difficult to find Charles and Lucy Carter on the 1861 census. However, I think it possible that Lucy is the "Louisa Carter" aged 45, described as a general servant with John Abbett, an unmarried 63 year old Fowl Dealer, living (in 1861) in Bush Green. 3 year old Richard Carter born Great Ellingham is with the household.
Initially, Louisa is stated to be unmarried but it appears that the enumerator (or some other person) changed the status to 'W' (widow). The census of 1851 states Lucy to have been born in Great Ellingham. However the Louisa Carter with John Abbett in 1861, was said to have been born in Attleborough.
I have not found a burial for Charles Carter and, to date, I have not found him on any later census.
1871 census
In 1871, a 55 year old Lucy Carter (a married woman) is living with 59 year old widower and bricklayer, Richard Kerrison as his housekeeper at Low Common, Great Ellingham. Thirteen year old Richard K Carter described as a bricklayer's boy is with the couple. Richard Kerrison was buried in the churchyard at Great Ellingham on March 16th, 1872.
1881 census
The census of 1881 finds 65 year old Lucy Carter described as a widow with her 23 year old bricklayer son Richard still living at Low Common. Seven year old William Moore described as a boarder is also with Lucy and her son.
The death for a Lucy Carter aged 74 is registered in the Wayland District between January and March 1890. This registration disrict includes Great Ellingham.
What happened to fishmonger Charles Carter after 1851 remains a mystery to me.
Sources:
1851 census : HO 107/1823/110
1861 census RG9/1237/97
1871 census RG10/1841/93
www.gro.gov.uk