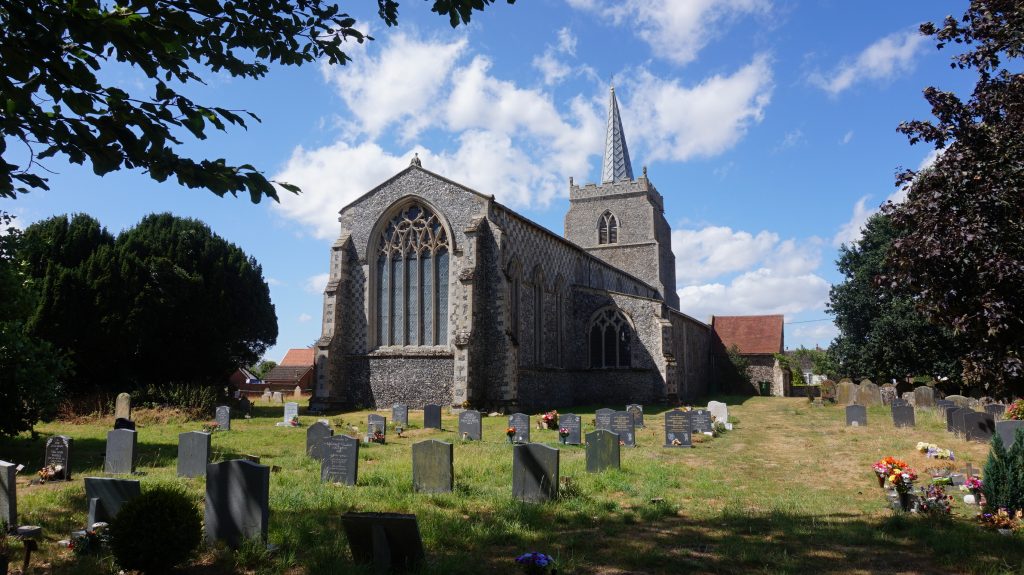 Great Ellingham Parish Church of St James
The Burial Register for the Parish Church of Great Ellingham includes an entry for the burial of a Robert Hurst on August 9th, 1863. The deceased was stated to be 105 years of age! 
A life span of 105 years is extraordinary even by today's standards. But was Robert really 105?
1851
I found Robert Hurst on the 1851 census living in an area known as Low Common in Great Ellingham.  Robert is described as an 86 year old widower living on parish relief. He was born in Thorpe Market – which is a village some 4.4 miles from Cromer. 74 year old widower John Margetson is lodging with Robert.
1861
In 1861, Robert is still living at Low Common.  Living alone,  he is again described as a widower and his age is given as 97.
Conclusion
Looking at Robert's burial age, and assuming that he had had his birthday before he died, Robert's date of birth was probably 1760. From the age given in the 1851 census (but assuming he had yet to celebrate his birthday), his birth year would have been around 1764.  Similarly Robert's  age given in the census of 1861, would suggest his year of birth to be around 1763.
A look at the Thorpe Market Baptism Records may confirm Robert's year of birth. However, from what we do know, Robert was certainly a very elderly man, and very likely well over 100 years when he died.
Sources:
Great Ellingham Parish Registers Norfolk Record Office PD/609. Also available at FamilySearch.org https://www.familysearch.org/search/image/index?owc=4J8C-CB7%3A29627201%3Fcc%3D1416598
1851 census HO107/1823/125
1861 census RG9/237/96