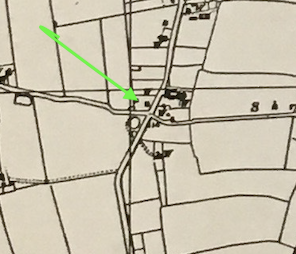 Extract from O.S. Map c.1945. Courtesy Ray & Maureen Beales
On the 22nd July, 1946, brother and sister, Bertie and Florence Southgate, completed their purchase of Fir Cottage in Long Street, Great Ellingham.
The cottage lies at the southern end of Long Street – indicated by the green arrow on the above map.
The seller, Sydney Thurston Claxton of the 'Nightingale', Nightingale Lane, Hornsey, London N8, had inherited the property on the death of John Thomas Harbour in 1931.
As far as I know, Claxton never lived in the house. Although born in Norwich, Sydney Claxton was a licensed victualler, and lived with his wife and family in London. Over the years, Claxton and his wife ran various pubs in London. Indeed, when Sydney Claxton sold Fir Cottage, he was probably the landlord of the Nightingale pub.
Southgate Family
The 1911 census captures 22 year old Marsham born Bertie Southgate and his sister 18 year old Florence (born Foulsham), with their parents and brothers at the ten-roomed Angel Inn, Larling.
The census describes their father, 54 year old Frederick Southgate, was a publican and farmer. Great Snoring born Frederick Southgate and his 52 year old wife, Charlotte, had been married for some 31 years during which time, the couple had seven children.
Ten years later, the 1921 census finds the Southgates at Hall Farm, Great Ellingham.
This census gives 64 year old Frederick Southgate's place of birth as Guestwick. His 63 year old wife was born Charlotte Roshier in Foulsham.
The couple have four of their children with them at Hall Farm, including 33 year old Bertie and 29 year old Florence. Along with his brothers Sidney and Stanley, Bertie is carrying out general farm work for his father. Florence is helping her mother in the house.
Frederick Southgate died on the 11th July 1929. He was buried in the churchyard of Rockland St Peter.
The 1939 Register finds widow Charlotte Southgate with Bertie and Florence at Allisons Farm. 52 year old Bertie is recorded as assisting his mother by carrying out general farm work. I do not know whether the Southgates moved to Allisons Farm before or after the death of Frederick Southgate.
Charlotte Southgate died on the 6 February, 1946. She too was buried in the churchyard at Rockland St Peter.
It was after their mother's death, that brother and sister Bertie and Florence Southgate of Rocklands purchased Fir Cottage in Great Ellingham.
Purchase
On the 22nd July. 1946, Bertie and Florence paid the sum of £1,300 to Sydney Claxton for the piece of land numbered No.555 on the Ordnance Survey Map, as well as the adjoining land with the dwellinghouse known as Fir Cottage and other buildings and erections.
Bertie and Florence lived at Fir Cottage – which became known as 'The Firs' during their ownership, for the remainder of their lives.
Florence died in 1964 and Bertie in 1977.
Sources:
Private Collection of Deeds – Many thanks to Pat Price
1911 census RG14/11495/27
1921 census RG15. Great Ellingham. Sch. 114. Viewed via www.findmypast.co.uk
Spalding Guardian 13th September 1946. Viewed via www.britishnewspaperarchive.co.uk
Ipswich Journal 8 February 1881. Viewed via www.britishnewspaperarchive.co.uk
1939 England & Wales Register. Bertie Southgate & Florence Southgate. The National Archives; Kew, London, England; 1939 Register; Reference: Rg 101/6591h. Ancestry.com. 1939 England and Wales Register [database on-line]. Lehi, UT, USA: Ancestry.com Operations, Inc., 2018.