1902 may have brought a period of anxiety for Long Street residents Henry and Charlotte Cursons, and their neighbours, the Lakes, Listers and Bakers. Their landlord, Mr J Warren, had died, and their homes were being auctioned. Were the families having to find somewhere else to live?
Auction
A notice of the forthcoming auction of a small farm and house appeared in the Eastern Daily Press on 20th May, 1902.
The farm was in the occupation of Mr E Lake, and three cottages with gardens were occupied by 'Messrs. Curson, Lister and Baker'.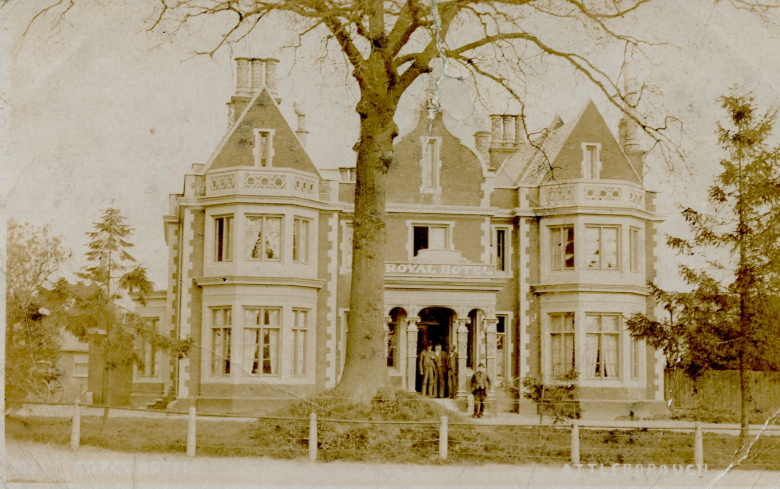 Royal Hotel, Attleborough. (Now known as The Mulberry Tree). Postcard author's collection
The auction would take place at the Royal Hotel in Attleborough on the 29th May, 1902, at four o'clock in the afternoon.
As there was no mention of when possession of the properties would be given to a purchaser, I can only assume that the properties would be sold 'with sitting tenants'.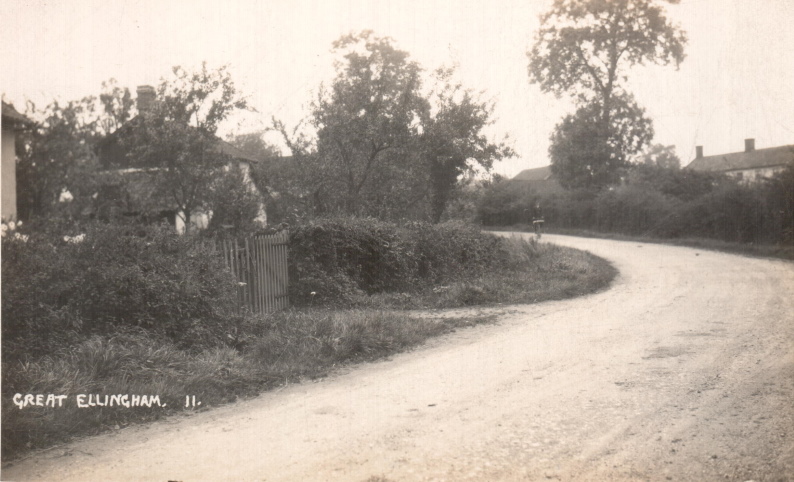 Long Street near the area of Town Green. Postcard Carol Ewin
Around this time, there were several small farms and cottages in Long Street. Accordingly, I cannot be certain whereabouts the small farm and cottages were. However, I believe they were around the Town Green area.
Lake Family
The 1901 census captures 44 year old Colkirk born Elijah Lake living in Long Street with his 41 year old wife Emma, and daughters Margery 18 and Nellie 13. The notice of the auction mentions that in addition to a house, the Lake's farm had 'capital agricultural buildings and about 56 acres of arable and pasture land'.
From North Elmham
The Lakes had arrived in Great Ellingham from North Elmham at some point after the 1891 census. Nevertheless, their time in Great Ellingham was short-lived. By the time the 1911 census was undertaken, the Lake family had moved to Diss.
Lister Family
James Lister may well have been a near neighbour of the Lakes, as the Lister household appears on the same page of the census.
63 year old agricultural labourer James Lister is with his wife Jane (who, at 67, is slightly older than James), and their children George 32, James 24 and 20 year old Harry.
Like their father, they are all employed in agriculture and were all born in Great Ellingham. Jane Lister was born in Great Fransham. 9 year old London born Walter Lister is with his grandparents.
Rachel Baker
The next household on the census page is 61 year old Attleborough born spinster Rachel Baker. Described as a charwoman, Rachel is living alone.
Curson Family
I do not believe the Curson family lived next door to the Lakes, the Listers or indeed Rachel Baker, as they appear on a different census page to the other households. However, this really depends on the order (if any) the enumerator took down the details.
1901 census
The 1901 census captures 39 year old Henry Cursons with his 26 year old wife Charlotte, and their two young children, Charles aged 2 and three month old Queenie in Long Street. The census indicates that the Cursons occupied three rooms.
Henry Cursons
Although born in Attleborough in 1862, Henry likely came to live in Great Ellingham at an early age.
The 1871 census captures 9 year old Henry Cursons in Great Ellingham at the home of his maternal Aunt, Mary Ann Lake. The Lake household comprised of 52 year old Mary Ann, her 72 year old husband, Thomas, and their daughter, 25 year old Eliza Lake.
I cannot tell whether or not young Henry Cursons was just visiting his Aunt and Uncle, although if he was, I would have expected the census to record Henry as a visitor. I wonder whether Henry was living with his Aunt and Uncle on a more permanent basis?
1881 census
In 1881 Henry Cursons (now 19), is still living in Long Street. Working as a general labourer, Henry is lodging with the household of widow Maria Fox. By 1891, Henry (now said to be 27), is living alone in Long Street.
Marriage
Henry Cursons married Charlotte Rolph towards the end of 1895. A marriage was registered in the Wayland District between October and December of that year. Census returns confirm that Charlotte Rolph (also found as Rolfe) was born in Wramplingham.
Baptisms in St James
Their children, Queenie and Charles, were baptised in the Church of St James on the 21st October, 1900.
Whilst continuing to live in Long Street, Henry and Charlotte Cursons had two more children: Clarence Victor born in 1904 (who sadly died in 1904), and Herbert John, born in 1911.
Family Connection to me!
What I find fascinating about family history, is the discovery of new family connections when I am not particularly looking for them.  When starting out on the One-Place Study of Great Ellingham, I didn't think I had any family connections to the village. However, I may have found one!
I believe Henry was the 'Harry Curson' baptised at St Mary's Church, Attleborough on the 27th November, 1862. Henry's older brother, George (born in 1859), was also baptised on 27th November.
George and Henry were two of at least four children born to spinster, Ann Cursons (also recorded as Curson) of Attleborough.
If my assumption that Henry Cursons is indeed the Harry Curson(s) son of Ann Cursons of Attleborough, then Henry Cursons is my husband's 1st cousin 3x removed! The link being Ann's sister, Eliza Cursons.
Sources:
GRO Index. https://www.freebmd.org.uk/cgi/information.pl?cite=QSAkT%2FTgTDlAuWphJDmf7Q&scan=1 accessed 13 August 2020
GRO Index. https://www.gro.gov.uk
Eastern Daily Pnress 20th May, 1902
Attleborough Parish Registers. Norfolk Record Office PD/438. Transcription online Norfolk Family History Society. www.norfolkfhs.org.uk Accessed 12th August 2020
Great Ellingham Parish Registers. Norfolk Record Office. PD/609.
1911 census RG14/11473/77
1901 census RG13/1867/79; RG13/1867/78
1891 census RG12/1549/79A
1881 census RG11/1974/89
1871 census RG10/1841/76