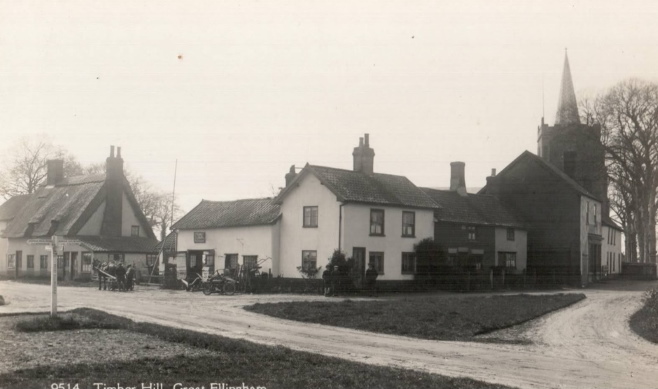 Timber Hill, Great Ellingham. Postcard Carol Ewin
Auction at the Griffin Inn, Attleborough
The property included in Lot 3 at the Auction being held at the Griffin Inn, Attleborough on Thursday September 13th, 1860, comprised "a substantially built and old-established Blacksmith's Shop with dwellinghouse, yard and outbuildings" in Great Ellingham. The premises were said to abut the road from Attleborough to Watton.
Although owned by Jeffrey Warren and William Mann, the Blacksmith's Shop with the house, yard etc were occupied by William Watson.
Blacksmith William Watson
The 1861 census lists William Watson, a blacksmith aged 49, with his wife Mary Ann in Church Street, Great Ellingham. Their son, William Loveday Watson, described as a 16 year old blacksmith is also with the couple.
The postcard above is of Timber Hill, Great Ellingham. Unfortunately, the 1861 census does not refer to an area called Timber Hill. However, the road from Attleborough to Watton is shown in the forefront of the postcard with Church Street leading off towards the church.
Accordingly, it is possible that the postcard shows what was earlier William Watson's Blacksmith's Shop being the property with the various pieces of machinery outside.
Who was William Watson?
William Watson was born in Watton about 1814. He married Great Ellingham girl, Mary Ann Denmark, in the Church of St James on the 16th November 1840. William, already a blacksmith, was said to be of Great Ellingham.
The census of 1841, finds blacksmith William Watson with wife Mary Ann and infant daughter Emily in Long Street. The family were still in Long Street in 1851.
Before the census of 1861, the Watson family had moved to the Blacksmith's Shop in Church Street.
By 1868, William and Mary Ann Watson had moved from Great Ellingham to the Black Horse Inn at Flordon.
The census of 1871 captures the couple at the Black Horse Inn. William Watson is described as a Blacksmith and Innkeeper.
William Watson remained the licensee of the Black Horse Inn at Flordon until 1883.
Sources:
Norwich Mercury September 12th, 1860
1841 census – HO107/781/8
1851 census – HO107/1823/15
1861 census – RG9/1237/90
1871 census – RG10/1826/157
Great Ellingham Parish Registers Norfolk Record Office PD/609. Also available at FamilySearch.org https://www.familysearch.org/search/image/index?owc=4J8C-CB7%3A29627201%3Fcc%3D1416598
Postcard – Carol Ewin collection
Norfolk Pubs Website http://www.norfolkpubs.co.uk/norfolkf/flordon/flordbh.htm accessed 14.08.2019