Reverend Higgins arrives at the Manse
During 1906, the Reverend William Higgins with his wife and some of his children, arrived in Great Ellingham. William Higgins came to the village to take up the pastorate at the Baptist Church.
Family Life
Born in Poole, William Higgins married Emmeline Elizabeth Harris in the District of the London Borough of Croydon in 1874. The couple may well have made their first home together in Melbourn, Cambridgeshire.
The 1881 captures the Higgins household of 33 year old Baptist Minister William Higgins, his 32 year old wife Emmeline, and two young children, William aged 2 and one year old Maryann, living in Melbourn. Also with the Higgins household is Emmeline's 71 year old widowed mother Maryann Harris, and two servants.
The Higgins family are still in Melbourn in 1891. However ten years later, the 1901 census finds Baptist Minister William Higgins with Emmeline and children Mary 21, Stanley 18, Harold 16, Alfred 14 and Lavinia aged 11, in Town Green, Wymondham.
Barely two years after moving to Great Ellingham, 59 year old Emmeline Higgins died. A death for an Emeline Elizabeth Higgins was registered in the Wayland District between January and March 1908.
The 1911 census captures the Reverend Higgins at The Manse in Long Street with two of his daughters, 27 year old Alice Miriam (described as a draper's assistant), and 21 year old Lavinia Kate, who was keeping house for her father. The census also tells us that eleven children were born to the Reverend Higgins and his late wife, but only 9 were then still living.
Reverend Higgins leaves the County
The following year (1912), William Higgins left the pastorate at Great Ellingham Baptist Church, and moved out of Norfolk.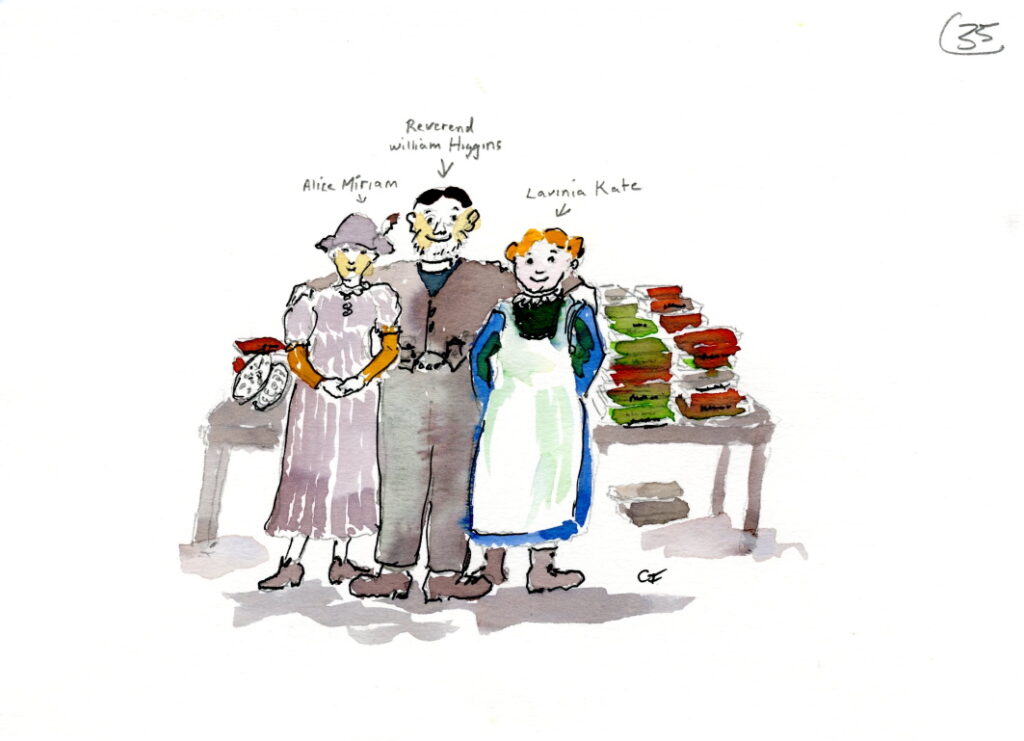 Illustration by Christine Fuller
The Notice of a forthcoming Auction of Household Furniture & Effects for 'Reception and Bedrooms' at the Manse, Great Ellingham, appeared in the Eastern Daily Press of the 4th November, 1912. The sale was due to the imminent departure of the Reverend Higgins 'who is leaving the county'.
The items included 800 volumes of books, and a pair of fine Old Coloured Engravings in circular frames, which had been 'in possession of the present owner's family over 100 years'.
Sources:
GRO Index. https://www.freebmd.org.uk/cgi/information.pl?cite=%2FSRii%2Bdqt6ikLdBw5DsJdg&scan=1 Accessed 10th August 2020
https://www.freebmd.org.uk/cgi/information.pl?cite=ssyPOAy0K30CbPWvc2ix3w&scan=1 Accessed 10th August 2020
Eastern Daily Press 4th November 1912. Viewed via localrecall.co.uk Accessed 10th August 2020
1881 census RG11/1414/55
1891 census RG12/1104/25
1901 census RG13/1851/11
1911 census RG14/11473/86