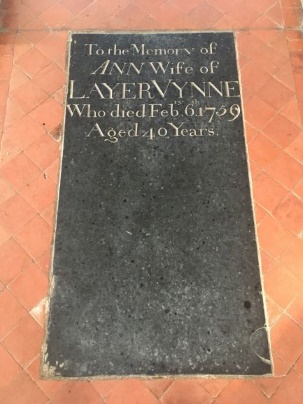 Memorial to Ann Vynne in Great Ellingham Parish Church
This Memorial caught my eye on a visit to the Church of St James. The inscription looks to be as clear as the day the stone slab was laid into the floor presumably not long after February 1759. Around 260 years ago!
Who were Layer and Ann Vynne?
We know from the inscription that Ann was the wife of Layer Vynne and that she was just 40 years old when she died on February 6th, 1759.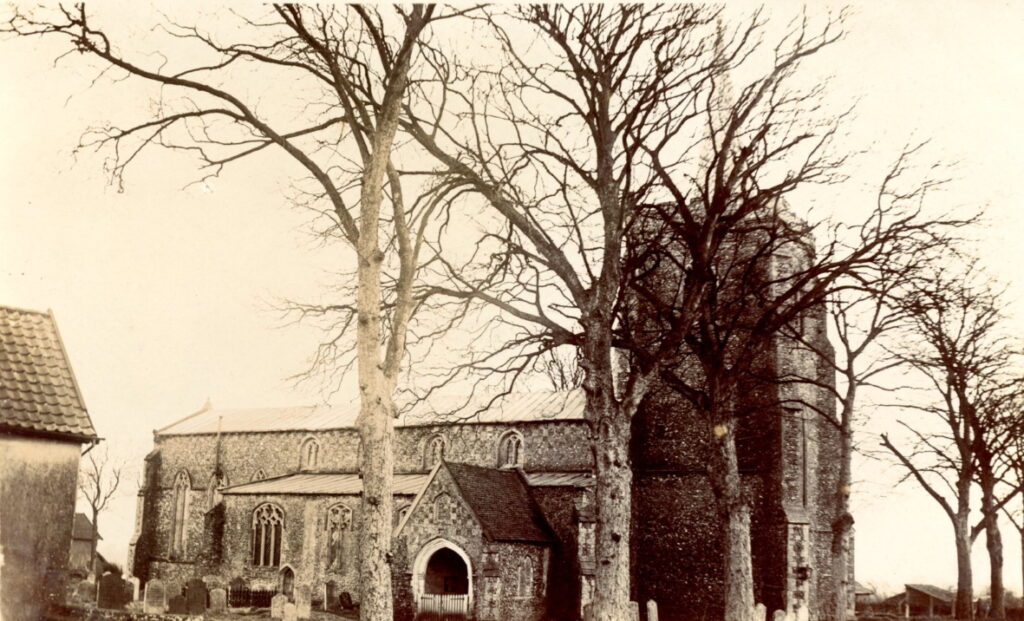 St James's Church, Great Ellingham
The Great Ellingham Parish Registers reveal baptisms and some burials for at least 11 children of Layer and Ann (Anne) Vynne between 1744 and 1759:
Son Layer baptised November 8th, 1744; Charles on November 24th, 1745; Richard baptised April 12th, 1747 (died before May 1750); Jeremiah baptised July 13th, 1748; son Daveney on 22nd July, 1749; Richard baptised May 12th, 1750 (died before November 1756); Sarah baptised October 21st 1751; Frances on July 8th, 1754 (buried in January 1744); Richard November 3rd, 1756 (buried June 1757); Richard baptised January 31st, 1759. Another daughter named Frances was buried in June, 1758.
Layer and Ann's last child, Richard, was baptised just a week before the death of his mother. We have to consider whether Ann died as a result of complications after childbirth.
Layer Vynne – Churchwarden & Overseer for the Parish
From at least 1743 to 1752, Layer Vynne was one of the churchwardens, overseers, constables or surveyors for the parish. These positions were voluntary and usually given to persons of some standing in the community after recommendation by the vestry (the governing body of the parish).
In April 1743, Layer Vynne was recommended to be churchwarden (together with John Barnard) for the year 1743/1744. Noted in the parish records as Lawyer Vynne, Layer along with John Barnard, Simon Warren, Samuel Williamson, Timothy Sippens, Edmund Chaplen, Robert Barker, Thomas Beales, William Kiddall, Zachariah Brown, Jeremiah Beraton were present at a Town Meeting on April 7th, 1742 when the parish accounts for the year 1742 were approved.
In the parish accounts (in the Town Book) for the year 1743, Layer (again written as Lawyer) is stated to be a churchwarden as well as one of the overseers.
Layer's duties as an overseer would include the collection of the 'Poor Rate' and to give relief to those in need. For example, the sum of £2 15s was paid out for cloathing of the poor; £8 10s for the house rent for the poor; 4s was paid to "the Widow Bishop in Want".
I do not know what became of Layer Vynne (or the Vynne family) following the death of Ann Vynne in 1759.
Sources:
Great Ellingham Town Book 1741-1775. Norfolk Record Office PD609/37
Great Ellingham Parish Register Norfolk Record Office PD609