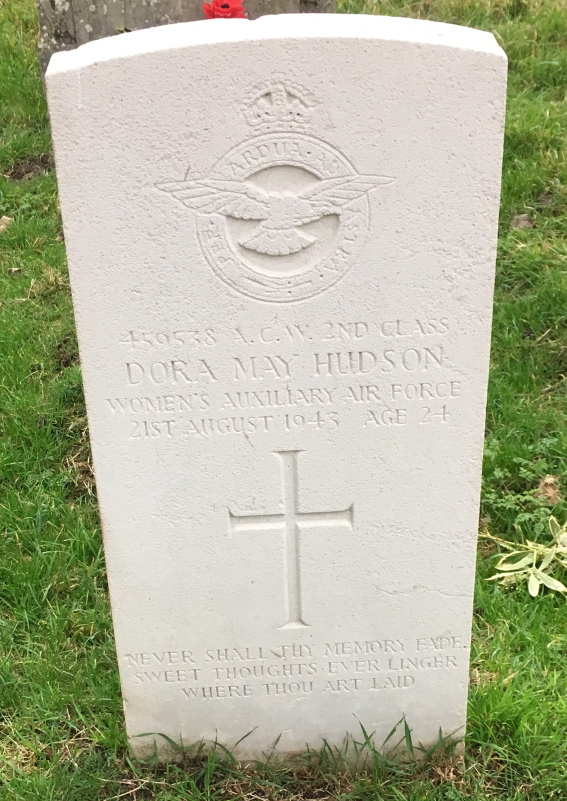 A daughter of Blomfield and Edith Hudson, Dora May Hudson is remembered with honour in the churchyard of St James in Great Ellingham.
Private 459538 Aircraftwoman 2nd class Dora Hudson was a serving member of the Women's Auxilliary Air Force (WAAF), when she died suddenly on the 21st August, 1943 at the aged of 24.
Dora's mother, Edith, who at the time was living in Hingham Road, Great Ellingham, registered her daughter's death, which occurred at the Norfolk & Norwich Hospital. The death certificate states that Edith Hudson was a cleaner at an aerodrome (likely at nearby Deopham Green).
The 1911 census captures Dora's parents, Blomfield and Edith Hudson, living in Stanfield, East Dereham. They had completed two years of marriage and had a one year old daughter, Irene Bessie. Blomfield Hudson was born in Gateley and his wife, Edith, in King's Lynn.
Dora's birth was registered in the Mitford district of Norfolk between July and September, 1919. Accordingly, it is likely that Dora moved to Great Ellingham with her parents at some point after 1919.
At the age of 7, Dora was baptised at the Church of St James on August 29th, 1926. Her younger sisters, Jocelyn and Edith had been baptised in the same church (on separate occasions) the previous year.
Sources:
GRO Index. https://www.gro.gov.uk Accessed 21.10.2020
Death Certificate Dora May Hudson Age 24. 21st August, 1943. Registered 23rd August, 1943.
Great Ellingham Parish Registers. Norfolk Record Office. PD/609