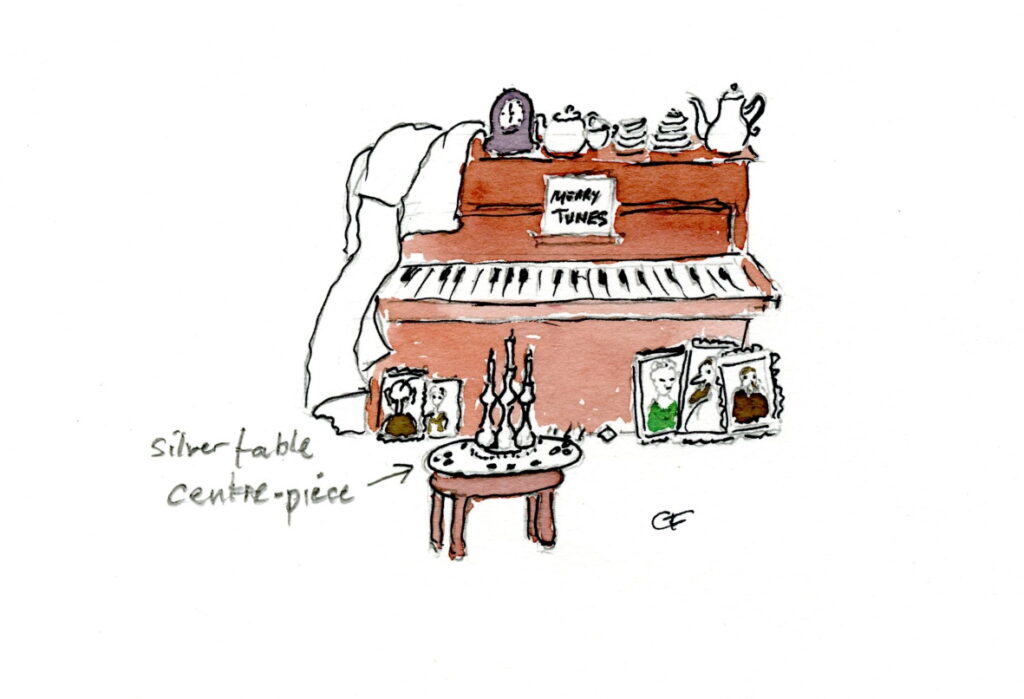 Illustration by Christine Fuller
Wills are a great source of information for both family and local historians. Not only providing names of family members and friends, wills can provide details of some of the personal items treasured by the testator, as well as a description of any land or premises owned or occupied by the deceased.
Will of Henry Cobon
Henry Cobon, a farmer, of Great Ellingham signed his last will and testament on the 5th June, 1909. He died around nine months later, on the 30th March, 1910.
Henry's will provides us with details of some of his family members, as well as his personal possessions. The will also gives an indication as to the tenure of the farm (and the farmhouse) which Henry occupied at the time of his death.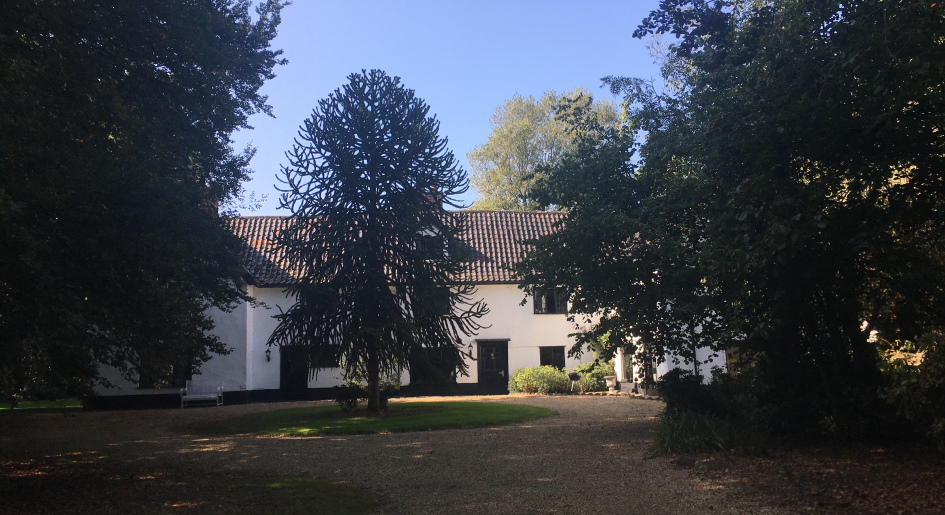 Great Ellingham Hall. Photograph taken September 2020.
Kelly's Directory of 1904 tells us that Henry Cobon lived at The Hall, Great Ellingham.
Executor George Cobon
Henry appointed George Cobon, farmer, of Paston, Norfolk as his sole executor and trustee. With the same surname as Henry, it would be reasonable to assume that Henry and George were related.
In fact, it appears that George and Henry were cousins. Henry specifically refers to George in his will as "my cousin George Cobon …."
George received a legacy of £100 "as an acknowledgment of the trouble he may have in proving my Will and executing the trusts".
Did Henry anticipate problems for George, or was it just that Henry acknowledged that George would have to spend a certain amount of time dealing with the administration of his will?
1911 census
The 1911 census captures 56 year old farmer George Cobon with his wife Helen, and two teenage children (Doris 19 and Harold 18), at Limes Farm in Paston. The Cobons employed a cook and a housemaid at their 14-roomed farmhouse.
Legacies
Henry Cobon was survived by his widow, his second wife Mary Elizabeth Cobon (née Legge). He married Mary Legge in 1896, just over a year after the death of his first wife, Mary Temple.
Henry also had one surviving daughter, Mary Louisa Temple Cobon, born to Henry and his first wife in 1878. Henry's youngest daughter, Alice, died in 1897.
With a legacy of £100 to be paid to her "as soon as practicable after my decease", Henry's widow Mary received all of Henry's 'wines, liquors, fuel and other consumables household stores and provisions", and all his "wearing apparel". I wonder whether Henry had a well-stocked wine and liquor cellar at The Hall!
I think it unlikely that Henry's daughter Mary was living at The Hall at the time of her father's death. The census of 1901 finds 22 year old Mary L Cobon as a governess with the household of Richard and Emily Wilson in Kirby Cane.
Unmarried, and already into her thirties when her father died, Mary received Queensland Bonds to the value of £300 from Henry.
Henry Cobon also left a legacy of £20 to his sister-in-law Alice Legge. However, I wonder whether the name 'Alice' is erroneous, and it should read 'Agnes'?
The 1891 census, which was undertaken around five years before widower Henry Cobon married Mary Legge, finds 40 year old Mary E Legge with her brother Charles aged 38 and sister Agnes aged 36 living together in St Mary's Street, Ely. All three were unmarried.
Henry also gave his niece and godchild, Fanny Gamble (said to be the wife of Henry Gamble of Wood Dalling), the sum of £50.
The 1911 census reveals 48 year old Fanny Gamble with her farmer husband Henry living in an eleven-roomed property at Wood Dalling. Married for 23 years, the couple have three children, all of whom were still living.
In addition to the legacy of the £300 in Bonds (and the benefit of her father's residuary estate on the re-marriage or death of her step-mother), Mary received the following gifts from her father:
"the silver table centre piece which was presented to my late father James Cobon
my silver teapot
my coffee service and all my plate and plated articles
my moveable timepiece
the best of my two pianos
such of my family portraits and other pictures prints and engravings she may desire to possess
such of my household linen as she may select to the value as near as may be of the one half thereof"
We can but imagine the family scene in the parlour at The Hall, particularly when Mary and Alice were children. A blazing fire in the hearth, the family portraits hanging around the beamed walls, and tea being served from the silverware.
There may also have been many occasions at the Hall when the family entertained guests. Perhaps on some of these occasions Henry Cobon was at one of his pianos, or playing one of the other musical instruments which he mentions in his will.
Henry Cobon provided well for his widow Mary, but only whilst she remained his widow.
Once his daughter Mary had chosen items of household linen, Mary was then permitted to make a selection from the remaining linen. Widow Mary was also allowed to select items of china, books, household furniture and musical instruments (not already chosen by daughter Mary), but only for her use and enjoyment during her widowhood. Henry stipulated that if Mary re-married (or on her death), these articles would then pass to his daughter Mary.
Henry's widow Mary also received the benefit of the income from the investments of the residue of Henry's estate. However, this would cease should she re-marry. After Mary's death (or her re-marriage), the benefit of Henry's residual estate would pass to his daughter, Mary Louisa Temple Cobon, who also received the remainder of her father's personal effects.
The Hall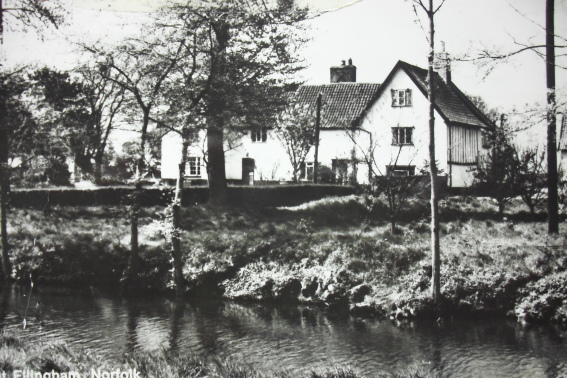 Great Ellingham Hall 1960s. Courtesy of Susan Fay
With regard to the tenure of the Hall and associated farm, Henry directed his cousin George to enter into any arrangement "he may think expedient" for giving up any farm which he occupied at the time of his death, and to carry on the farming business until the tenancy can be ended. In the meantime, George was permitted use Henry's capital money to employ "such bailiff, servants and labourers as he may think desirable" to continue the business.
Until the tenancy of the farm came to an end, widow Mary was allowed to remain living in the farmhouse, rent free. Whilst living in the farmhouse, Mary would also receive £50 per annum, and any further allowance 'in kind' out of the produce of the farm as George considered reasonable.
This tells us that, whilst we know that Henry Cobon lived at The Hall, he was a tenant farmer and accordingly, he did not own it.
Sources:
1891 census RG12/1298/128
1901 census RG13/1857/15
1911 census RG14/11156/14; RG14/11201/97
Cobon, Henry. Probate 27th May, 1910. Will dated 5th June, 1909. Obtained via https://www.gov.uk/search-will-probate August, 2020
Kelly's Directory 1904. Attleborough Heritage Group. Attleborough Community & Enterprise Centre, Church Street, Attleborough NR17 2AH