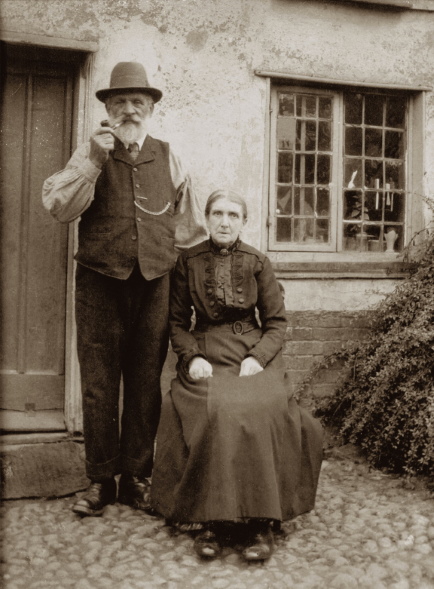 William & Emily Houchen. Photograph taken 1921. Courtesy Pauline Bezant
William and Emily Houchen had completed 52 years of marriage when William died in 1934. The couple had lived for many years in Reymerston before retiring to Yaxham.
Early Life in Great Ellingham
However, both William Houchen and his wife Emily (neé Rivett) were born in Great Ellingham and spent their childhood and early married life in the village.
Emily, the youngest child of Jonathan and Mary Rivett, was born on the 11th April, 1853 and baptised at the Parish Church in Great Ellingham on the 5th May, 1853. William Houchen, also a youngest child, was born on the 6th January, 1857. His parents were Francis and Matilda Houchen.
The 1881 census undertaken seven months before William and Emily married, finds 24 year old William Houchen with his parents, Francis and Matilda, living in Long Street. 60 year old Francis Houchen was described as a farmer of 76 acres who employed two men and a boy. William's occupation is stated to be 'Farmer's son'. Accordingly, I assume that he worked with his father on the farm in Long Street.
27 year old Emily Rivett is living in Church Street with her widowed mother, 71 year old Mary Rivett and her siblings Jonathan now aged 48 and Rebecca aged 30. Mary Rivett is described as a farmer of 74 acres and employed two men.
Marriage & Children
Following the reading of the Banns, William and Emily married in the Church of St James, Great Ellingham on the 9th November, 1881. Emily's siblings Charles and Rebecca were witnesses, and all the parties signed the marriage register.
Within a year of their marriage, William and Emily welcomed the first of their 9 children with the birth of William on the 24th July, 1882. Like many Victorian families, William and Emily recorded the birth dates of their children in their family bible.
Birth Dates (and Marriage date) from the Houchen Family Bible. Courtesy of Pauline Bezant
The couple continued to live in Long Street and six more children were born in Great Ellingham – Emma 1883, Charles 1885, Leonard 1886, Sarah 1888, Frank 1889 and Arthur in 1892.
The 1891 census captures William and Emily with their growing family in Long Street. Emily's 40 year old sister Rebecca Rivett is living with the family. Unmarried, Rebecca continued to live with the family for at least the next twenty years.
Move to Reymerston
Between the birth of their son Arthur in January 1892 and the birth of Matilda Mary in June 1893, William and Emily and their seven children together with Emily's sister Rebecca Rivett, moved to Reymerston. Youngest child Philip completed the family in January 1895.
The census undertaken on the night of the 31st March 1901, shows William and Emily with seven of their children and Rebecca Rivett at North Green Farm, Reymerston. Eldest son William (now 18) is described as an outfitter's assistant. Described as a farmer's son, it is likely that Charles aged 15 is working on the farm.
The family are still in Reymerston ten years later. The census of 1911 reveals their farmhouse home in Thuxton Road consisted of nine rooms. The number of rooms would include a kitchen but not any scullery, closet, bathroom or farm office/shop.
William and Emily, now aged 54 and 57 respectively, had completed 29 years of marriage and they had had nine children, eight of whom were still living. At the age of 18, their son Arthur had died in January 1910 and was buried at Reymerston.
Sons Charles (now aged 25), Frank 21 and Philip aged 15 were all working with their parents on the farm. At 24, Leonard was a grocery shop assistant.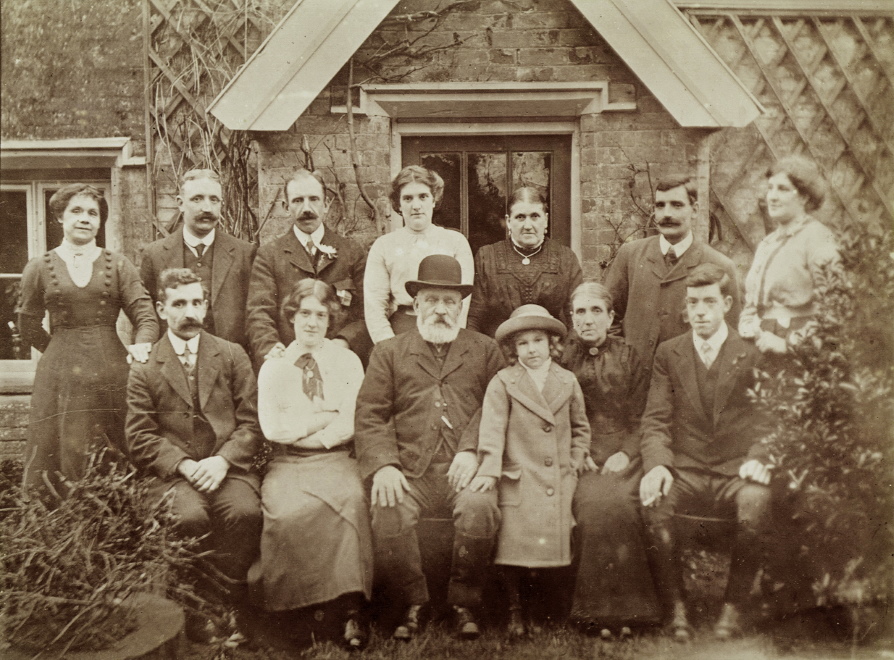 Houchen Family Photograph. Courtesy of Pauline Bezant
The above photograph of the Houchen family is believed to have been taken in 1910. Head of the family William Houchen is seated in the centre of the front row (wearing a bowler hat). To William's left, and standing, is his granddaughter Emmy. Emily Houchen is seated next along with son Philip seated next to his mother. On William's right is his daughter Matilda Mary (known as Mary).
Looking at the back row (facing the photograph), on the left is Elizabeth (Gorbold) the wife of William Houchen junior. Elizabeth has her left hand on William's shoulder (who is seated in the front row). William and Emily's daughter Emma is standing behind her father on the back row and next to Emma is Rebecca Rivett. Further along and standing at the end of the back row is William and Emily's daughter Sarah (known to the family as Sally).
The other young men standing in the back row are the other sons of William and Emily namely Charles, Leonard and Frank (although it has not been possible to identify who is who).
William junior was killed in action during the First World War on the 20th October, 1917. Frank Houchen was also a casualty of the First World War. He died on 11th December 1919 aged 30 and is buried at Reymerston.
Both William junior and his brother Frank are commemorated on the list of the Fallen on the Reymerston War Memorial. Their brothers Leonard and Philip are recorded on the memorial as having served during WW1.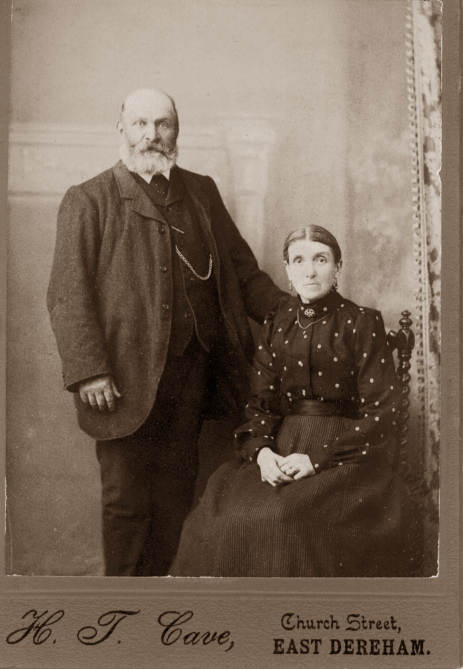 William & Emily Houchen. Studio photograph H T Cave, Church Street, East Dereham. Courtesy of Pauline Bezant
William and Emily moved from Reymerston to spend their retirement at Yaxham. William died in 1934 aged 77 having been married to Emily for 52 years. Emily survived William by around 8 years. She died in 1942 at the age of 89.
Sources:
1881 census RG11/1974/90, RG11/1974/91
1891 census RG12/1549/79
1901 census RG13/1870/12
1911 census RG14/11502/91
Great Ellingham Parish Registers. Norfolk Record Office.PD/609. Also available at FamilySearch.org https://www.familysearch.org/search/image/index?owc=4J8C-CB7%3A29627201%3Fcc%3D1416598
Reymerston Parish Registers. Norfolk Record Office. PD/465. Transcript of Reymerston Burials. Norfolk Family History Society. https://www.norfolkfhs.org.uk/ Accessed 09.05.2020
GRO Index. https://www.gro.gov.uk/ Accessed 10.05.2020