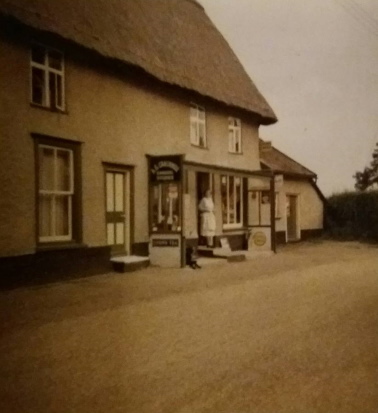 1954. A G Cracknell's Shop in Great Ellingham. Photographs courtesy Diane Davis
Purchase of Church Street Shop
Arthur George Cracknell purchased this familiar village shop in Church Street, Great Ellingham in 1952. For many years, he ran the general stores with his wife Evelyn, whom he had married in 1924. Their son, Colin, also worked for his parents and carried out van deliveries in the neighbouring area.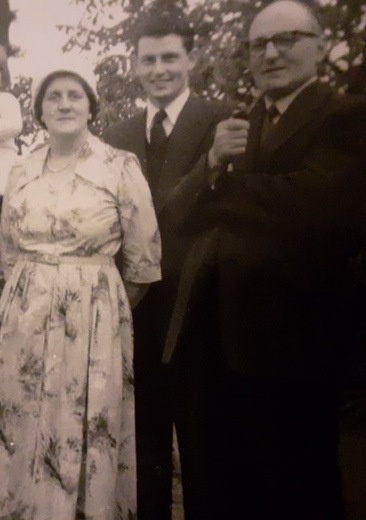 Evelyn & Arthur Cracknell with son Colin between them. Photograph courtesy Diane Davis
Methodists
The Cracknells attended the nearby Methodist Church, which is just a few hundred yards from the shop, where Evelyn Cracknell played the harmonium.
Sale of the Shop to the Arundels
Arthur and Evelyn sold the shop in 1963, when they moved with their son Colin and his family to Foulsham, having purchased a general stores and newsagents. The Arundels were the purchasers of the Great Ellingham shop.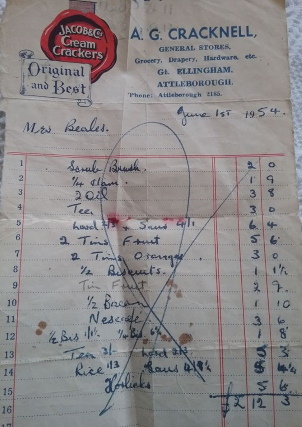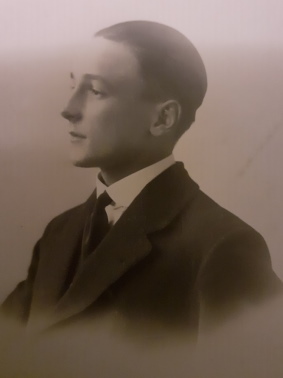 Arthur George Cracknell's Early Life
A son of Herbert and Mary Cracknell, Arthur was born in Thorndon, Suffolk in 1901.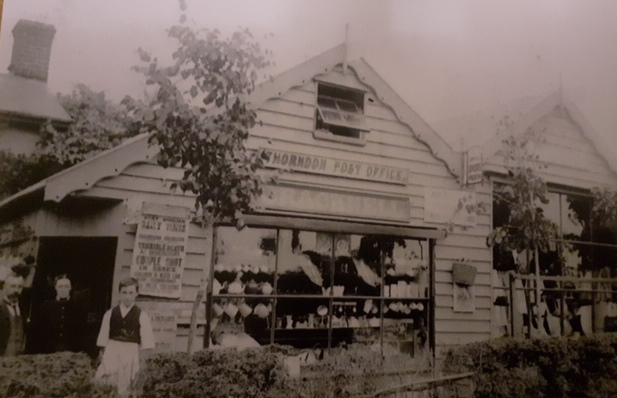 1907. Herbert & Mary Cracknell outside their shop in Thorndon. With them is their assistant (identity unknown). Photograph courtesy Diane Davis
The census of that year (1901) captures the Cracknell family in The Street, Thorndon. Herbert Cracknell, a bootmaker and draper, was 34, his wife 37 and the children Gertrude aged 7, Alice 5, Herbert 2 and Arthur just two months old. The census also lists 14 year old Elizabeth Cracknell boarding with the family and working as a draper's assistant.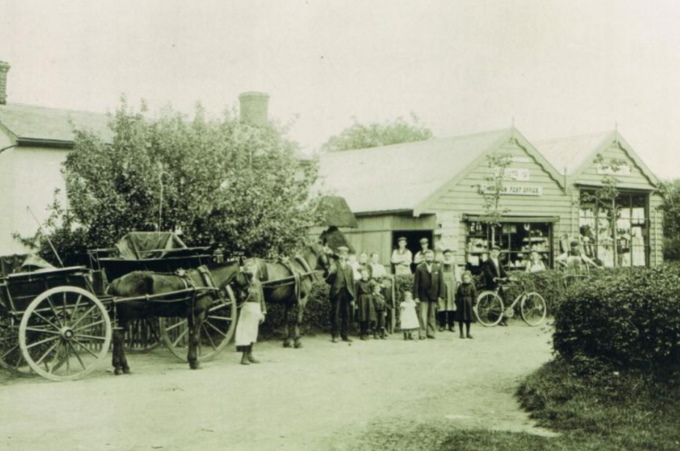 The Cracknell Family outside their shop in Thorndon. Photograph courtesy Diane Davis
The Cracknell family were still in Thorndon 10 years later. Their home was described as the Post Office, Thorndon, which comprised of 7 rooms (not including the shop and any bathroom). 44 year old Herbert Cracknell is now described as a grocer, draper and bootmaker. His wife Mary is recorded as assisting in the business. The couple had been married 18 years. Their 17 year old daughter Gertrude is assisting with housework whilst her 15 year old sister Alice is assisting in the drapery side of the business. 12 year old Herbert together with 10 year old Arthur and 8 year old Beatrice are attending school.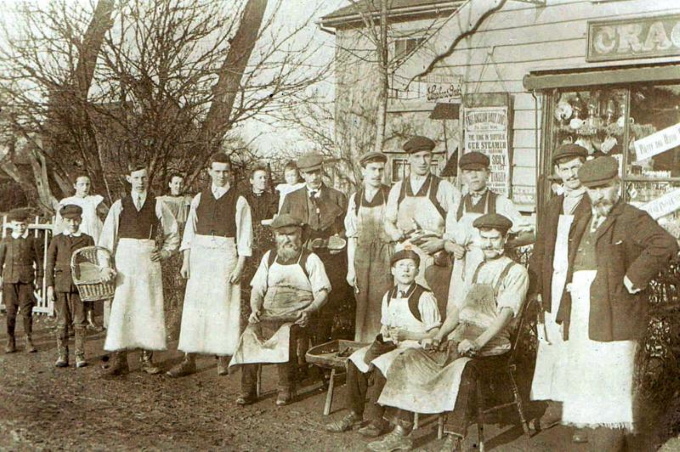 Herbert Cracknell (far right), his wife Mary and three daughters Gertrude, Alice and Beatrice at the rear (on the left). Sons Arthur (far left) and Herbert. Photograph taken outside Cracknell's Shop. Courtesy Diane Davis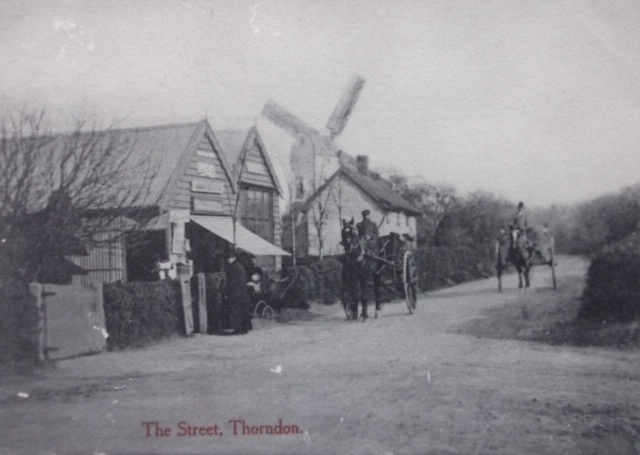 The Street, Thorndon showing the shop of Herbert & Mary Cracknell in the foreground. Courtesy Diane Davis
Sources:
1901 census RG13/1763/104
1911 census RG14/10707/71
GRO Index. FreeBMD website. https://www.freebmd.org.uk/cgi/information.pl?cite=RYawbIkoenwoJUbomgG5jQ&scan=1 Accessed 07.06.2020
Thanks to Diane Davis