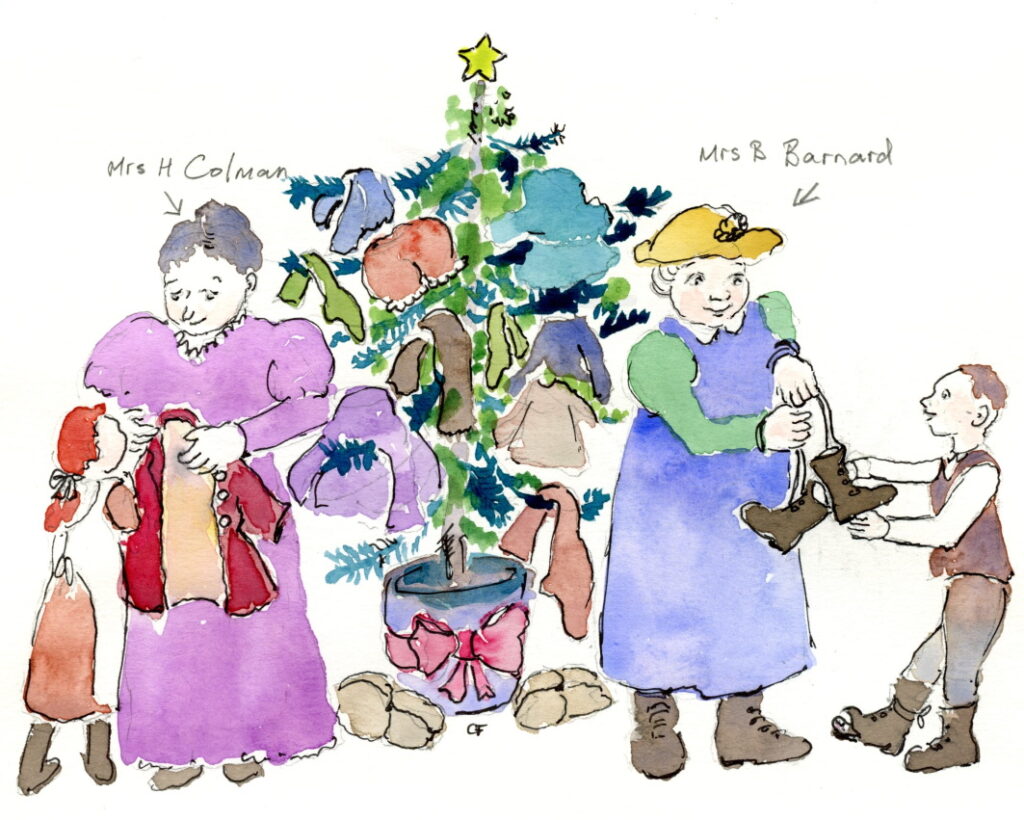 Illustration by Christine Fuller
The Norwich Mercury of January 13th, 1872 reported that earlier in the month on the 2nd January, at Great Ellingham, the poor of the parish received their annual presents from the Rector (who had now left the county).
The children of the National School were also presented with various articles of clothing, books etc from Mrs B Barnard and Mrs H Colman.
But who were the generous Benefactors?
"Mrs B Barnard" was Sarah the (second) wife of local farmer Benjamin Barnard. The 1871 census shows Benjamin and 58 year old Sarah Barnard living in Great Ellingham. Although the census does not specifically say whereabouts in the village they lived, I believe they were at Great Ellingham Hall.
"Mrs H Colman" was Sarah (aged 43 in 1871), the wife of Henry Colman, also a local farmer. The 1871 census shows the couple to be living at Haugh (Haw) Farm in Great Ellingham.
The newspaper report also confirms that a Christmas Tree was given by the Reverend Hurnard of Hingham, which was "well filled with useful articles of clothing, which was distributed to the children of the school".
The 1871 census finds 62 year old William B Hurnard described as a Curate of Great Ellingham living with his wife Frances and family at Gurneys Manor, Hingham.
Sources:
Norwich Mercury January 13th, 1872
1871 census RG10/1841/78; RG10/1841/94, 1871 census RG10/1824/96