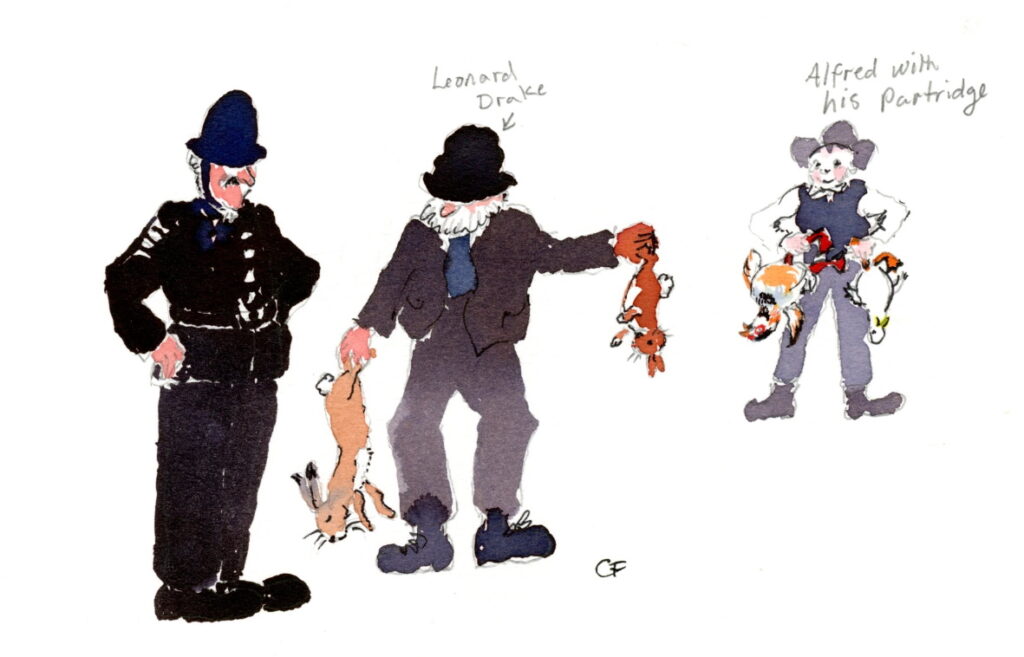 Illustration by Christine Fuller
Appearance before the Magistrates
Great Ellingham butcher Alfred Partridge appeared before the magistrates at the East Harling Petty Sessions in early October 1906. He was charged with selling game otherwise than to a licensed dealer. The alleged offence took place at Great Ellingham on the 26th September. At the same time, Leonard William Drake was charged with buying the game.
Facts of the Case
The facts of the case were reported in the Eastern Daily Press of the 9th October, 1906. The defendant Leonard Drake was carrying a hare and a rabbit when he met Police Constable Earle along a road. When asked by the Constable where he had bought them, Leonard Drake told him that he had bought them from Alfred Partridge in Great Ellingham.
The Constable called on Alfred Partridge the next day. When inquiring about the selling of the hare to Leonard Drake, Alfred Partridge was said to reply "I did not sell it to him. I have a licence to kill game". However he also confirmed to the Constable that he did not have a licence to sell game.
Another Police Constable, by the name of Knights, also gave evidence. Alfred Partridge told the court that he and Leonard Drake were "quite innocent of any intention to break the law". As Partridge had a licence to kill game, he had thought he could sell it anywhere. In fact, it appears that Alfred Partridge did not actually sell the hare to Leonard Drake – it was a reward for his help in killing rabbits during that day and he (Alfred Partridge) had had some partridge from Leonard Drake.
Penalty
Despite the Magistrates believing that the law had been broken in ignorance, Alfred Partridge and Leonard Drake were ordered to each pay a nominal penalty of 6d and 10s each in respect of costs with 5 days in default.
Who was Alfred Partridge?
The 1901 census reveals Bodney born Alfred Partridge living in Long Street, Great Ellingham. This Alfred is described as a farmer. However, I have not found any other Alfred Partridge living in Great Ellingham at this time.
With Alfred is his wife Eliza and children Mary 5, Charles 4, Rose 2 and ten month old Stephen. Alfred's widowed father 71 year old Benjamin Partridge born in Bodney is also with the household.
Alfred Partridge likely arrived with his family in Great Ellingham between the birth of daughter Rose in Cressingham in 1898 and the birth of Stephen in Great Ellingham in 1900.
The couple had married in the Swaffham District in the last quarter of 1894. Banns had been read in the parish church at Bodney on September 23rd and 30th, and on October 7th.
The 1911 census finds the family still living in a six roomed property in Long Street. Alfred, aged 47, is now a farm labourer. The census states that Alfred's 40 year old wife Eliza was born in Wiltshire. This conflicts with the census 10 years earlier which states that Eliza was born in Cressingham.
Unusually, the census also indicates that Alfred's 15 year old daughter is "away from home" and that sadly, their 8 year old daughter Ellen had died.
The Partridge children listed in the household in 1911 are Charles 14 (described as an errand boy for a grocer), 12 year old Rose, Stephen 10, Harry 7, William 5 and Benjamin aged 2.
Farm labourer, Alfred Partridge, purchased a double cottage with gardens which was at the northern end of Long Street from a Maurice Pilgrim in 1920. I believe this double cottage still stands today.
Two years later, Alfred Partridge died. A death was registered between January and March 1922 in the Wayland District. Alfred was aged 60.
Sources:
Little Cressingham Parish Registers. Norfolk Record Office PD/132. Norfolk Family History Society Online Record Search. Transcript of Little Cressingham, Banns 1825 to 1902. https://www.norfolkonlinerecordsearch.co.uk/search/Partridge–Alfred–parish–little-cressingham/3443-little-cressingham-banns/ accessed 06.01.2020
Free BMD website:
https://www.freebmd.org.uk/cgi/information.pl?cite=JzWgQjQe9v8Vqrf6em8ZfQ&scan=1 Accessed 06.01.2020
https://www.freebmd.org.uk/cgi/information.pl?cite=G31EgdmEF9ziEnbgdjs3aQ&scan=1 Accessed 06.01.2020
Property Documents. Butler Family Collection.
1901 census RG13/1867/79
1911 census RG14/11473/94