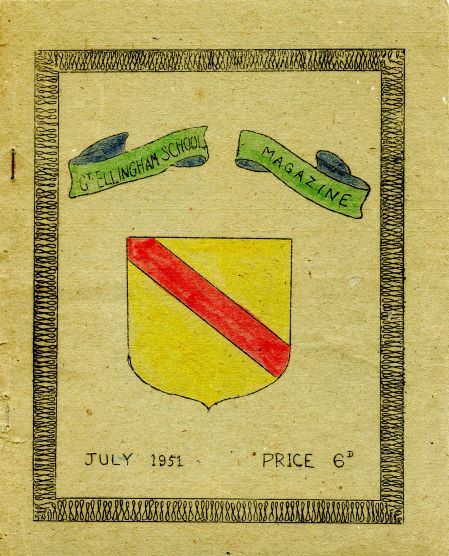 Headmaster Mr A G Boast introduced the First Issue of the Great Ellingham School Magazine in July 1951. Priced at sixpence.
The Headmaster's Letter to the Readers
Mr A G Boast became Headmaster of the village school on 8th January 1951. In his letter to "The Readers" on the first page of the School Magazine, Mr Boast said that he and Mrs Boast "feel to a large extent strangers but we have appreciated the friendliness which has been shown by the parents we have met so far." Mr Boast later left the school in May 1959.
Contributions from the Pupils
Contributions of stories and poetry to the magazine were provided by some of the pupils.
R.R. wrote about the school garden referring to the vegetable garden, the fish pond and the erection of a rabbitry – four mature rabbits with 13 young ones. B.E., W.S. and H.R. wrote short pieces about their pets; M.W. wrote about the Rabbit Club which had just been started at school.
School Visits
The Magazine also reported on the Educational Visits. A party of 10 children visited the Festival of Britain. School visits were also made to Messrs. Cranes, Jentiques, Briton Brush and Wymondham Laundry.
Leavers
G.E. was congratulated on winning his Scholarship to Thetford Boys Grammar School. It was also reported that two of the pupils were leaving the school as well as two members of staff.
Sports News
In the sports news: "This season 1950-51 we played 10 matches losing 9 and winning 1". The win was against the Headmaster's previous school Sporle!
I think these were football matches as the Magazine reports that the school also hoped to have a cricket team.
Sources:
Great Ellingham County Primary School Centenary 1896-1996 compiled by J E Watts
Great Ellingham School Magazine July 1951