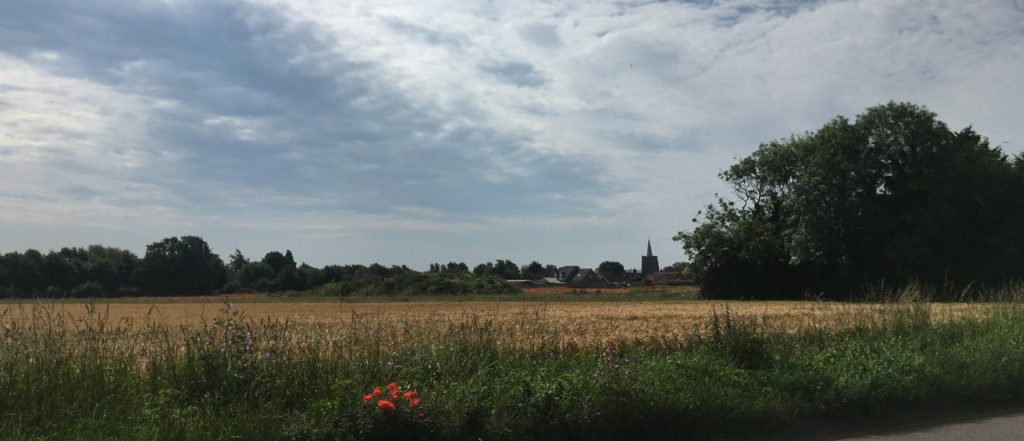 The Church of St James in the distance. Photograph taken from Hingham Road 2019
Dedication Service
Village news for Great Ellingham appeared in the Eastern Daily Press on Wednesday, April 25th, 1900. It was reported that there was a large congregation at the dedication service for the recently restored spire and belfry to the Church of St James.
The five bells had been rehung by Messrs Day & Son of Eye. The report also mentioned that the spire of St James is a conspicuous landmark for miles around.
The service was held on the previous Monday. The Bishop of Thetford was the preacher "and gave an excellent discourse on the sweetness of music of church bells in particular".
The Rural Dean, the Reverend W H Partridge, performed the dedication of the bells and members of the St Andrew's Branch (Hingham) of Church Bell Ringers rung the first round on the bells.
"Short touches on the bells were also rung by ringers from Attleborough, Besthorpe and Carbrooke." The Vicar, the Reverend E H Polehampton, entertained "a goodly company of visitors and others to supper at the Crown Inn". The host and hostess, Mr and Mrs Beets, provided a "capital repast".
Corrections to the Earlier Report
Two days later, in the Eastern Evening News on 27th April 1900, again under village news for Great Ellingham, reference is made that the Reverend E H Polehampton had written to the paper with thanks for the report on the thanksgiving service for the restoration of the belfry.
However he (the Reverend Polehampton) wanted to correct "one or two inaccuracies" in that "The Reverend W H Partridge is not a Rural Dean" and he (the Reverend Partridge) "did not dedicate the work which was the object of the Bishop's visit".
Further, the Reverend Polehampton could not claim to have exercised the hospitality with which he was credited (supper at the Crown Inn).
Church of St James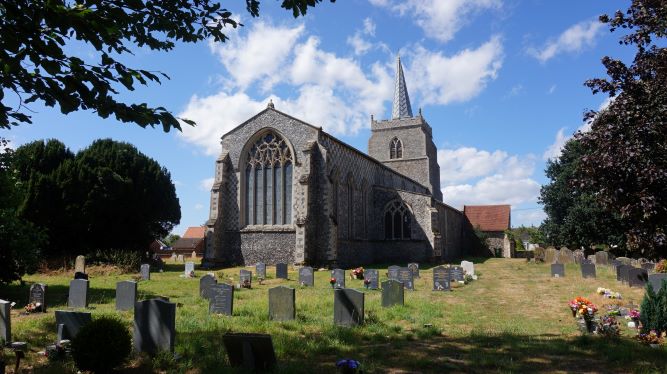 Church of St James Great Ellingham
Kelly's Directory of 1916, describes the church of St James as "a spacious building of flint, with stone dressings, in the Decorated style, consisting of chancel, nave of four bays, aisles, north porch and an embattled western tower with spire, containing 5 bells, re-hung in 1900; the church was re-floored, re-seated, repaired and furnished in 1905 at a cost of £670: there are 500 sittings".
The Five Bells
In a pamphlet complied by the Rev D H Elton in July 1979 (from sources History of Norfolk, Blomefield; The Church of Saint James, Great Ellingham, a pamphlet compiled about 1905 by Edwin J Tench), the Reverend Elton says that four of the five bells date from 1615 and were cast by William and Alice Brend of Norwich.
The bells carry inscriptions such as "Come with care to hear his word". Reverend Elton also says the treble bell was recast in 1737 and the bells were rehung in 1900 by George Day and are now due for rehanging. Further, a piece of wood found in 1900 gives the date of the first bellframe as 1595.
Sources:
Great Ellingham – St James Church complied by D.H.E. July,1979
Kelly's Directory 1916
Eastern Daily Press April 25th, 1900
Eastern Evening News April 27th, 1900