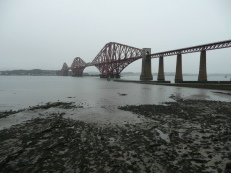 Forth Bridge. Photograph taken April 2012 (Author's Collection)
The Norfolk Chronicle and Norwich Gazette of 19th February 1898, reported that at Great Ellingham, "The Construction of the Forth Bridge" was the title of "an interesting lecture delivered at the Baptist Church" on the previous Tuesday evening by the Reverend J Miller Hamilton of Lowestoft.
Mr Colin Bateman brought along photographic lantern slides to illustrate the talk.
The Forth Bridge is a cantilever railway bridge across the Firth of Forth in the east of Scotland and was opened in March 1890. It is a World Heritage Site.
Reverend J Miller Hamilton born in Scotland
The 1891 census finds John M Hamilton, a 36 year old married Baptist Minister with his wife Ellen and two young sons living London Road, Lowestoft. The census states that John Hamilton was born in Scotland (although the actual place of birth is not provided). This may well account for the Rev J Miller Hamilton having sufficient knowledge to deliver the lecture. Perhaps John Hamilton had first hand knowledge of the construction of the Forth Bridge or, perhaps, he just had an interest.
Colin Bateman of Attleborough
Living in Exchange Street, Attleborough at this time is 43 year old Attleborough born Colin Bateman, a furniture shop keeper, with his wife Sarah (41) and 20 year old daughter Ethel.
This Colin Bateman may well be the Colin Bateman providing the illustrations for the lecture in Great Ellingham. Living near to Colin Bateman is a 22 year old photographer, Thomas Johnson, who lived with his family at the fishmonger's shop also in Exchange Street.
It is possible that Colin Bateman and Thomas Johnson shared an interest in photography including the photographic lanterns.
Sources:
Norfolk Chronicle & Norwich Gazette February 19th, 1898
https://www.theforthbridges.org/forth-bridge/
https://en.wikipedia.org/wiki/Forth_Bridge
1891 census RG12/1493/94; RG12/1549/22