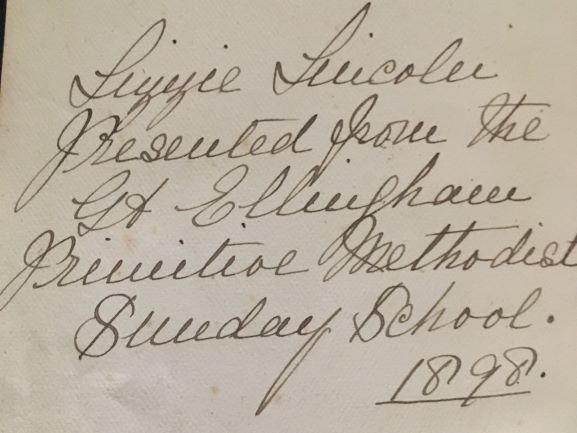 Inscription in a Book Presented to Lizzie Lincoln by Great Ellingham Primitive Methodist Sunday School 1898. Courtesy of Cyril Edwards
No doubt, 18 year old Lizzie Lincoln was not the only one to be presented with a book by the Primitive Methodist Sunday School but after some 120 years, I wonder where all the books are today!
Who was Lizzie Lincoln?
1881 census
The 1881 census finds Lizzie as the un-named 'infant aged 3 days' with her parents John and Elizabeth Lincoln and most of her siblings in Town Green, Great Ellingham. With the family is 55 year old widow, Harriet Brown, described as a nurse. Harriet would have been looking after Elizabeth Lincoln and her young baby. Given that the census was taken on the night of the 3rd April and Lizzie was just three days old, she was born on the 1st April.
Lizzie's Parents John & Elizabeth Lincoln
The birth of Lizzie – as Elizabeth Lincoln – was registered in the Wayland District between April and June 1881. Her mother's maiden name was Gant. Lizzie's parents, John and Elizabeth Lincoln (neé Gant), married in the Wayland District between October and December 1861. The marriage did not take place in the Church of St James. Given that Lizzie attended the Primitive Methodist Sunday School, I wonder whether the marriage took place there?
Lizzie's Siblings
Lizzie was the youngest of nine children: five of whom were girls! William Mitson was born 1862, followed by Maria (Polly) in 1864, Harriet in 1865, John 1867 (died 1869), James arriving in 1868, Susannah in 1870, John 1876, Alice 1879 and finally, Elizabeth (Lizzie) in 1881.
With the exception of William, all the children were born in Great Ellingham. However, there are no baptisms for any of the children in the Parish Registers for St James. Again I think it possible that the children were baptised at the Primitive Methodist Church. John Lincoln was also born in Great Ellingham, but his wife, Elizabeth, was born in Halifax, Yorkshire.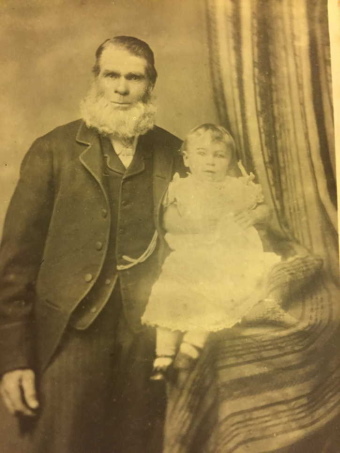 Lizzie (Elizabeth) Lincoln 1881-1951 with her father John Lincoln 1839-1913. Photograph taken just weeks after the death of John's wife Elizabeth in 1882. Courtesy of Bryan Dye
Death of Lizzie's Mother Elizabeth Lincoln
Tragically for the family, Lizzie's mother Elizabeth died at the age of 39 just over a year after Lizzie was born. She was buried in the churchyard of St James on Septeber 24th, 1882.
1891 census
The 1891 census finds widower John Lincoln aged 50, an agricultural labourer, living in Long Street. With John is his 20 year old daughter Susanna (Susannah) who is described as a housekeeper. Son John 14 also described as an agricultural labourer and 10 year old Elizabeth (Lizzie) is also in the household.
1901 census
Moving on ten years, the census of 1901 finds 20 year old Lizzie as Elizabeth Lincoln as a general servant for draper Thomas Cross and his wife in Eaton, Norwich. Her widowed father, 61 year old John Lincoln, is still living in Great Ellingham (at Town Green) together with his daughter and son in law Alice and James Watling and their children Hilda 3 and Sylvia 1.
1911
By 1911, Lizzie had married George Edwards. The census of that year finds George and Elizabeth (Lizzie) living with their four children, Alice 7, George William 5, Jeremiah 4 and two month old Florence at Tanyard Farm Cottages.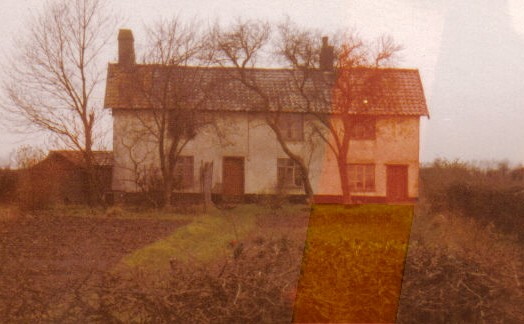 Tanyard Farm Cottages. Photograph courtesy of Bryan Dye
The census confirms that the couple had been married seven years and that they had had seven children – three of whom had sadly died. All three were only infants when they died: William in 1904, Thomas in 1908 and Rose Mary, who was born on February 15, 1909 and baptised just a few hours before she died on 19th February.
Further Children and Loss
George and Lizzie likely had a further four children born after the 1911 census. Again the family suffered the loss of children who were all buried in the churchyard of St James: Nellie 1912, Cyril 1915 and Douglas in 1918.
Burials of George and Lizzie
George and Lizzie lived at Tanyard Cottages all their married life. Their respective burial entries in the Parish Registers for St James confirm that they were living at Tanyard Cottages when they died. Elizabeth (Lizzie) Edwards was buried on July 20th, 1951 and her husband George William on February 27th, 1954. Both were 70 years of age when they died.
Sources:
Great Ellingham Parish Registers NRO PD/609
General Record Office website https://www.gro.gov.uk/gro/content/certificates/indexes_search.asp Accessed 01 October 2019
Free BMD website:
https://www.freebmd.org.uk/cgi/information.pl?cite=YOIgcH%2BQpC9Sa%2F%2FbZsF9Xw&scan=1 Accessed 30.09.2019
https://www.freebmd.org.uk/cgi/information.pl?cite=d3uwK5cHlRbf4ea8xTtTAg&scan=1 Accessed 30.09.2019
https://www.freebmd.org.uk/cgi/information.pl?cite=ZeHIQRWdmJtugWk%2FkUWQSQ&scan=1 Accessed 30.09.2019
1881 census RG11/1974/80
1891 census RG12/1549/78
1901 census RG13/1867/70, RG13/1846/132
1911 census RG14/11473/2