The announcement of the death of Robert Wilkins on the 15th January 1878 at Great Ellingham, appeared in the Norfolk Chronicle & Norwich Gazette on January 19th. No further details were provided.
Who was Robert Wilkins?
The 1871 census shows a 71 year old widower Robert Wilkin living alone in Chequers Lane, Great Ellingham. I believe this was the Robert Wilkins mentioned in the newspaper seven years later.
Ten years earlier in 1861, 62 year old Robert Wilkin is living with his wife Hannah, aged 67, in Chequers Lane. Robert is described as a carpenter. Both Robert and Hannah were born in Great Ellingham.
Robert Wilkins son of Edward & Mary Wilkins
Working back from Robert's age given in the death report, Robert would have been born in Great Ellingham around 1799.
The baptism of Robert the son of Edward Wilkins and his wife Mary (late Mary Carley, spinster) appears in the Great Ellingham Parish Registers for January 27th, 1799.
Robert's elder brother Edward was baptised in the same church two years earlier on May 28th, 1797 and his younger brother, James, baptised on March 24th, 1805.
I have not found baptisms for any further children of Edward and Mary Wilkins in the Parish Church Registers.
Hannah Houchin daughter of Robert and Anne Houchin
The surname Houchin appears in the parish registers in several variations: Howchen, Houchen as well as Houchin.
Hannah, the daughter of Robert Houchin and his wife Anne (late Anne Beales spinster), was baptised in the Church of St James, Great Ellingham on August 12th, 1793.
Two brothers of Hannah, Robert and Edward, were also baptised in the same church – Robert on July 1st 1787 and Edward ten years later on September 3rd, 1797.
Marriage in the Church of St James
'Wilkins' and 'Houchin" appear in the parish registers for several generations. Accordingly, it is no surprise that these two well-known families were united by marriage (as were many other village families).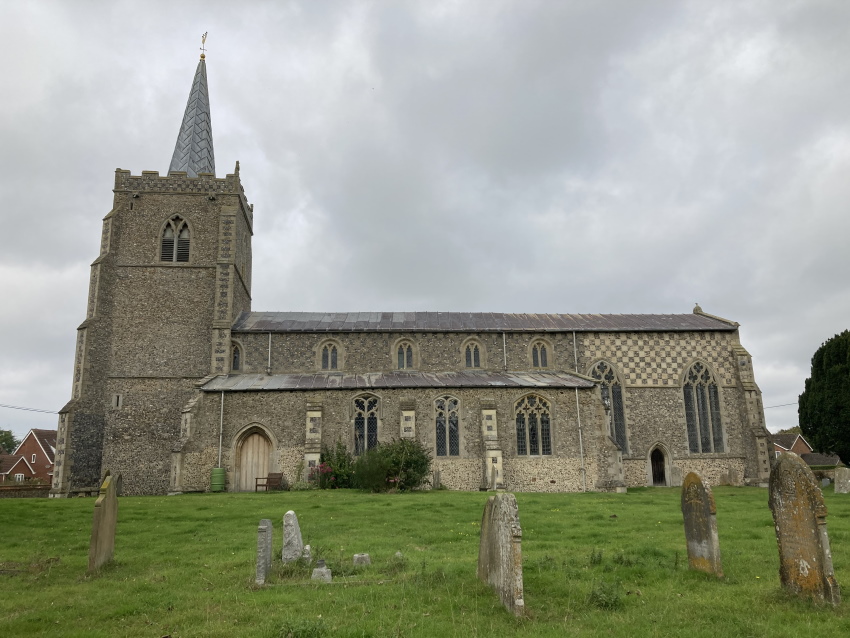 Church of St James, Great Ellingham
The marriage between Robert Wilkins and Hannah Houchin took place in Great Ellingham Parish Church on the 11th June 1821. Robert was aged around 21 and Hannah aged about 27. Both were single and living in the parish.
1841
I do not know where Robert and Hannah lived during their early life together. Further, I have not found baptisms for any children of the couple in the parish registers for the Church of St James, or for the parish churches in Rocklands.
The first modern census which took place on the night of the 6th June, 1841, captures Robert and Hannah Wilkins living in Swangey Lane, Rockland St Andrew. Robert is described as a carpenter. With the couple are William Chaplin (aged between 20 and 24) described as a carpenter's apprentice, and John Sharing who was of a similar age to William.
1851
The couple are still living at Swangey, Rockland St Andrew in 1851. Robert is now aged 52. He still a carpenter but also farming 12 acres of land and he employed one man.
The man employed by Robert Wilkins may be 17 year old Robert Houchin who is captured with the couple on the census. Robert Houchin is described as an agricultural labourer and nephew to Robert Wilkins. Given that Hannah was formerly Hannah Houchin, young Robert most likely was Hannah's nephew.
Between 1851 and 1861, the couple moved from Rocklands to Chequers Lane, Great Ellingham. However by 1871, Robert Wilkins had become a widower.
Death of Hannah Wilkins
The death of a Hannah Wilkins aged 72 years was registered in the Wayland District during January and March 1866. I have not found a corresponding burial for Hannah in the burial records for the Church of St James.
Death of Robert Wilkins
Robert Wilkins died on 15th January, 1878 aged 78 years. Again, I have not found a burial entry for Robert in the registers for the Church of St James and, like Hannah, he must be buried elsewhere.
Sources
https://www.freebmd.org.uk/cgi/information.pl?cite=ivX2Vt4q91fit7AS1JahVw&scan=1 Accessed 30/10/2019
Great Ellingham Parish Registers Norfolk Record Office PD/609
1841 census HO107/781/15
1851 census HO107/1823/161
1861 census RG9/1237/81
1871 cesus RG10/1841/89
Norfolk Chronicle & Norwich Gazette January 19th, 1878