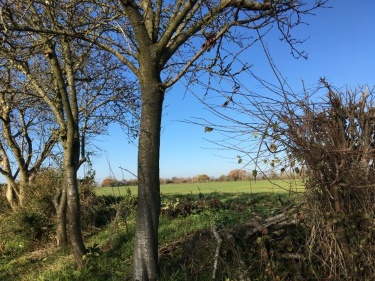 Photograph taken from Hingham Road across fields towards Bow Street 2019
The Norfolk Chronicle of May 4th, 1861, reported the discovery of a human skeleton in the parish of Great Ellingham. The revelation was made by men engaged in throwing down a bank. The skull showed signs of a fracture.
The remains were thought to be that of Ann Margerson. Ann had apparently been missing for about 16 years. However the report goes on to say that the whole affair concerning the disappearance of Ann Margerson had been shrouded in mystery and remained so.
Who was Ann Margerson and was she a local girl?
Ann Margerson disappeared around 1845. The newspaper report merely says that Ann had been missed by her friends, which may suggest that she had no immediate family in the village. Had Ann just moved to another place without telling her friends?
Were the remains found in 1861 actually those of Ann Margerson?
The newspaper article does not tell us how old Ann Margerson was at the time of her disappearance, and whether or not she was married. Without specific details, it is difficult to find reference to a likely 'Ann Margerson' (or a variation of the name) in the census records or the parish registers.
The 1841 census shows a Margerson family of William and Ann Margerson (both aged around 40) with children Robert, Edward and George living in or around the Hingham Road area. William and Ann (as Margtson) are still in Great Ellingham in 1851. Therefore Ann Margerson, the subject of the newspaper report, is unlikely to be William Margerson's wife Ann.
Unsolved Mystery
After some 170 years, the disappearance of Ann Margerson (and the subsequent discovery of the human skeleton), still remain a mystery.
Variations of 'Margerson'
There are entries for the name Margerson and variations (for example, Margratson; Margetson) appearing in the Great Ellingham Parish Registers from at least 1779.
Sources:
The Norfolk Chronicle of May 4th, 1861
Great Ellingham Parish Registers Norfolk Record Office Ref: PD/609. Also available at FamilySearch.org https://www.familysearch.org/search/image/index?owc=4J8C-CB7%3A29627201%3Fcc%3D1416598
1841 census HO107/781/8
1851 census HO1707/1823/116