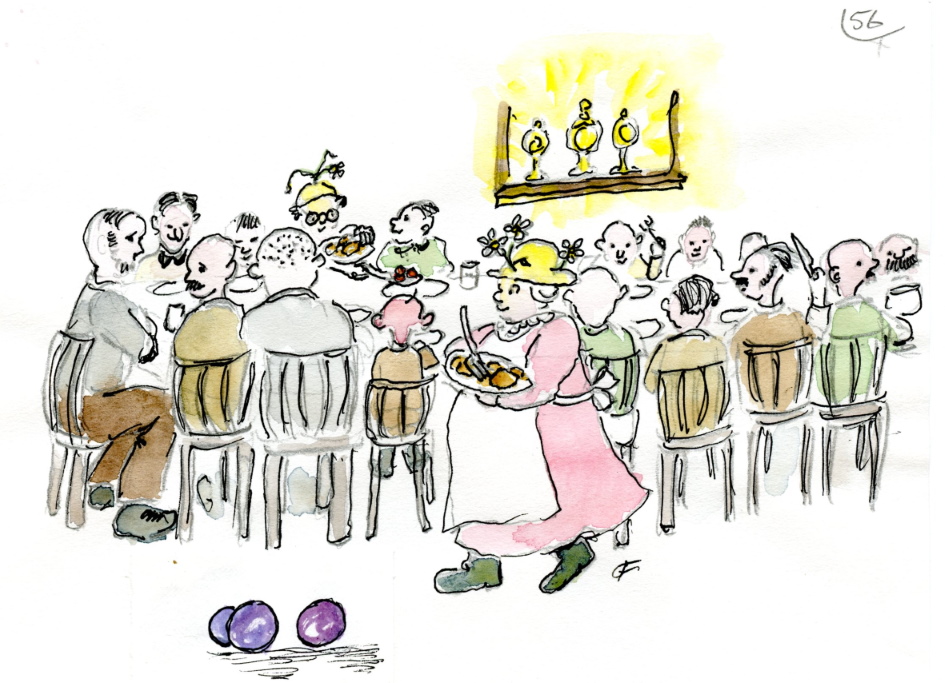 Illustration by Christine Fuller
Great Ellingham had a thriving Bowls Club during the 1930s. Certainly from 1933 to 1935, the club held its annual dinner and prize distribution in the Parish Room.
The Eastern Daily Press of 29th October, 1934, reported on an attendance of around 30 members at the Great Ellingham Bowls Club annual dinner, which also included a concert.
The Chairman of the Club, the Reverend E H Polehampton, gave the 'toast of the Great Ellingham Bowls Club'. Mr G Saunders, as Captain, and the Secretary, Mr A J Pollard, responded.
The prizes for 1934 were awarded to (and in order of merit): A J Pollard, H Rix, E Fuller, G Saunders, R Fordham, K Holmes, W Lebbell, H Myhill, E Leech, G Jude, H J Neave and G Mace.
The ladies responsible for providing dinner to the members were Mrs H Rix, Mrs Pollard, Mrs Fuller, Mrs E Roberts, Miss Beales and Miss Pollard.
Entertainment was provided by friends – Messrs. R Warren, E Reynolds, A Chilleystone, E Leech with the support of member Mr G Saunders. The pianist was Mrs E Roberts.
Sources:
Eastern Daily Press 25th November, 1933; 29th October, 1934 accessed via localrecall.co.uk 3rd August 2020
Eastern Daily Press 11th November, 1935 accessed via localrecall.co.uk 18th July 2020