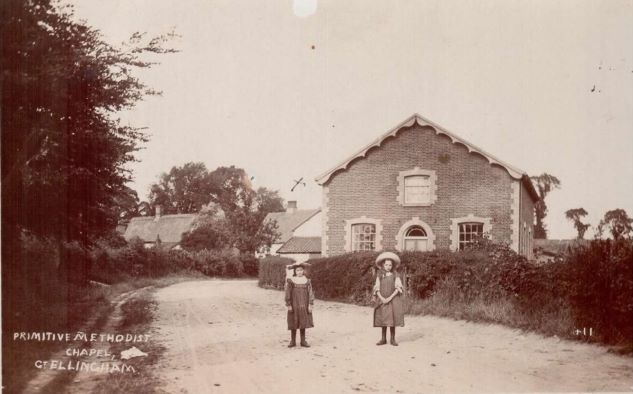 Primitive Methodist Chapel, Great Ellingham. Postcard courtesy of Carol Ewin
The edition of the Norfolk News dated 11th August 1877, reported on the anniversary celebrations at Great Ellingham of the Primitive Methodist Sunday School.
The celebrations took place over two days – Sunday and Monday. On the Sunday morning, Mr Wade of Norwich preached a sermon. This was followed in the afternoon and evening with recitations and singing by the children.
On the Monday, about 200 people (including children) sat down to tea. A public meeting held in the evening was addressed by the Reverend D Newton and Messrs Wade and Dye.
During the evening, a 'beautiful cruet stand' which had been subscribed for by the choir and friends of the congregation, was presented to Mrs Henry Starke "as a mark of their esteem for her constant and efficient services as harmoniumist". 
Source:
Norfolk News 11th August 1877