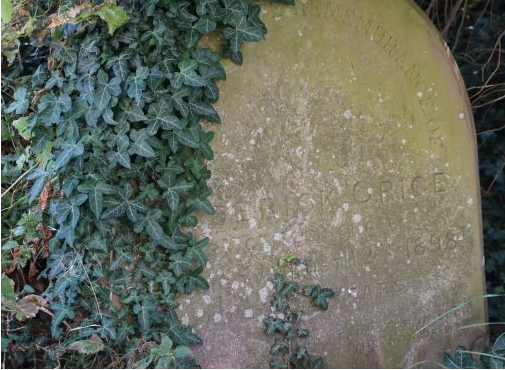 Headstone for Frederick Grice in Great Ellingham Churchyard
The Frederick Grice buried in the churchyard of St James on August 12th, 1898 likely lived in Long Street, Great Ellingham for over thirty years.
However, Frederick Grice was not a local man.
1891 census
The 1891 census finds Frederick Grice as a widower aged 52 living at 37 Long Street with his son George Chester Grice aged 13, and general servant 24 year old Annie Nobes (born Besthorpe). Frederick Grice is described as a farmer. Whilst George Chester was born in Great Ellingham, his father was born in Wolverton, Norfolk.
1881 census
Ten years earlier, in 1881, the census shows Fredrick Grice, a farmer of 60 acres employing three men, with his wife Mary (aged 40) at a farm in Long Street. Unfortunately the census does not give the name of Frederick's farm. Son George Chester is then aged 3 and the couple also have a boarder, 28 year old Charles Le Grice (born Framlingham, Norfolk). Mary Grice is stated to have been born in Nottinghamshire.
Between the census returns of 1871 and 1881, Frederick and Mary's son George Chester Grice was baptised in the Parish Church at Great Ellingham on August 4th, 1878. George Chester was born in the February of that year.
Two years earlier, Mary Elizabeth was born to Frederick and Mary on 18th April, 1876. She was baptised in the Parish Church on 2nd July of that year. Tragically for the family, Mary Elizabeth died in the May of 1877 aged one year and buried in the churchyard on May 25th.
1871 census
The 1871 census reveals Frederick and Mary Grice in Great Ellingham with sons, Frederick C. aged 11, Thomas C. 10 and 8 year old Arthur C. The family have a servant, Norfolk born 17 year old Harriet Moore.
Like their mother, the children were born in Nottinghamshire.
1862 to 1869: The Grice Family move to Great Ellingham
Frederick and Mary Grice with their family moved to Great Ellingham sometime after the birth of Arthur (around 1862) and the baptism of their daughter Martha Ann which took place in the Church of St James on Christmas Day 1869.
Sadly, Frederick and Mary buried their three week old daughter Martha Ann in the churchyard on January 3rd, 1870. I have already mentioned that the couple would lose their second daughter Mary Elizabeth in 1877.
Chester and Grice
Given that their son George was given the name 'George Chester' and the census of 1871 gives the initial 'C' after the first names of Frederick, Thomas and Arthur, I think it very likely that Chester was the middle name of all the sons of Frederick and Mary. Further I suspect that, not unusually, 'Chester' is Mary's maiden name.
A marriage between Frederick Grice and Mary Chester was registered in the Hull District between January to March 1859 in the Hull District. I have little doubt that this is the marriage of the Frederick and Mary Grice who came to Great Ellingham.
Mary Grice
Frederick's wife Mary Grice was buried on May 3rd, 1882 in the churchyard at Great Ellingham aged 42 years.
I have not found a corresponding headstone for Mary Grice in the churchyard. However not all graves have a headstone and some of the headstones in the churchyard are very worn and illegible.
Cherry Tree Farm
The announcement in the Norfolk Chronicle of the 10th September, 1898, of an auction taking place in Great Ellingham tells us exactly where Frederick Grice's farm was in Long Street.
Auctioneers, Salter & Simpson, were instructed by the executors of the late Frederick Grice to sell by auction livestock, an assortment of agricultural carriages, farming implements, machines etc together with various items of household furniture. The sale would take place at Cherry Tree Farm on Monday, 19th September, 1898 and the sale to commence at 1.30pm with the furniture.
Updated 08 March 2021
Sources:
Great Ellingham Parish Registers Norfolk Record Office PD/609. Also available at FamilySearch.org https://www.familysearch.org/search/image/index?owc=4J8C-CB7%3A29627201%3Fcc%3D1416598
1891 census RG12/1549/79A
1881 census RG11/1974/91
1871 census RG10/1841/83
Free BMD Website https://www.freebmd.org.uk/cgi/information.pl?cite=Hzm7b0aCDxFv7xy88Mn6qQ&scan=1
Norfolk Chronicle & Norwich Gazette dated September 10th, 1898 viewed via British Newspaper Archive https://www.britishnewspaperarchive.co.uk/ 8th March 2021