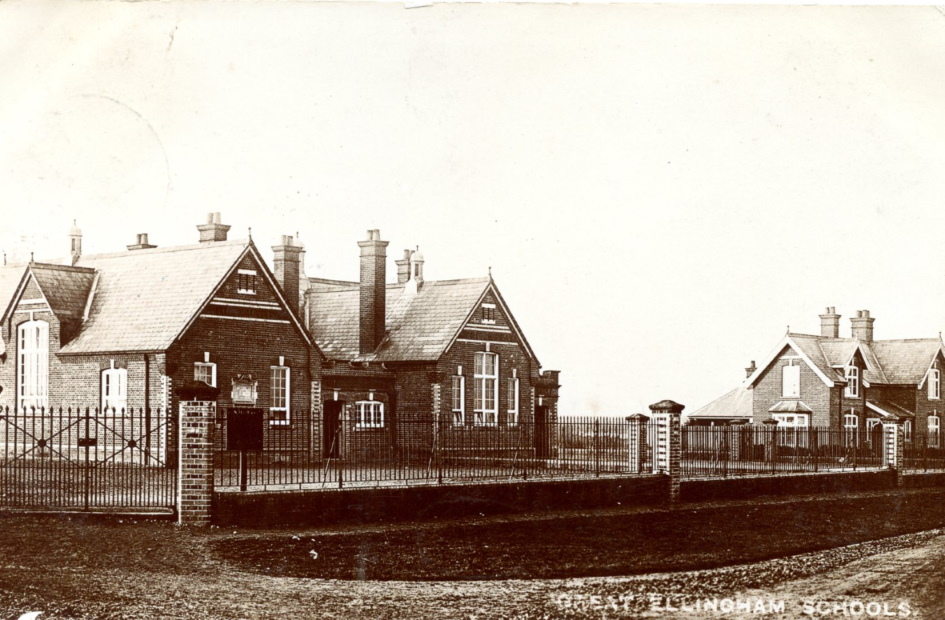 Great Ellingham Board Schools pre 1905
R.W., a pupil at Great Ellingham School, reported in the School's Magazine of July 1953 that the school now has a Junior Youth Club.
The Youth Club, held every Thursday night at 7 o'clock, was usually attended by about twenty to twenty five children most of whom attended the school. A 3d. (threepence) subscription was payable at every session.
R.W. also explained that Mr and Mrs Boast (Headmaster and his wife) "have been teaching us how to play tennis. At first, we had no net nor any rackets, but Mr Bush who helps supply Youth Clubs with different things, got a net for us and some of us have purchased a racket for ourselves."
Other games being played had been cricket for the boys and stoolball. R.W. goes on to say that "we also have some dancing which is mostly Old Time and K.R. brings some of his own records and Mr Bush bought us several".
Winter planned activities included dancing, darts, cards, table tennis or art, films and debates. It was reported that Mrs Boast obtained a 'play' but when she read it over to the members of the Youth Club. it was suggested that it be left until the winter.
The School Garden information covered two pages of the Magazine. D. M. explained that the school garden is divided into four main plots and an experimental plot with small flower beds each side of the rose arches and paths. Garden Plots had been allocated to various pupils.
Although it seems the school already had a greenhouse (as there is reference in the Magazine report to it being moved and re-erected) the school was hoping to have a greenhouse.
The School Fund had a balance of £32 which included £10 Greenhouse Fund.
The Magazine reported that "attendance since last September has been quite good but could have been even better". The names of many children were listed as having over 95% attendance including G.E. with 100% attendance.
Once again, children from Great Ellingham School took part in the Old Buckenham Area Sports and obtained 9 place certificates (compared with 10 the previous year). No one managed to qualify for the County Sports. However J.S. was mentioned as having broken the District Record for 60 yards Boys under 8.
Articles of stories, reports and poems were again written by pupils.
Source: Great Ellingham School Magazine July 1953