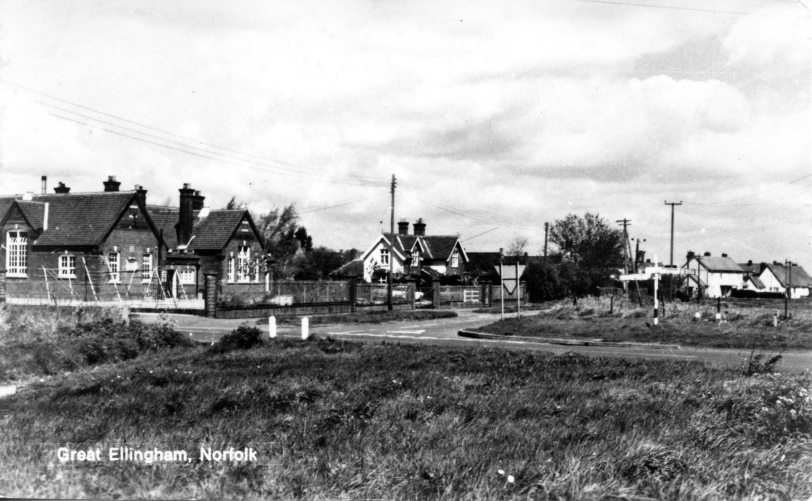 School Corner: Hingham Road junction with B1077. Postcard BCV
The second edition of the School Magazine was produced in July 1952.
In his letter to the Readers, the Headmaster, Mr Boast, said that he had received a large number of articles (from the children) for the inclusion in the Magazine and it had been very difficult to restrict the selections to 24 pages (there were only 20 pages).
Mr Boast also reported that "it had been a very happy year of steady progress with a record number of successes both in the District and County Sports and in the swimming classes".
The Parent-Teacher Committee had arranged talks by the Chief Education Officer, Dr Lincoln-Ralphs and by Mrs Lincoln-Ralphs and these talks "were very much enjoyed by those present".
A fund raising School's Sports and Fete would be held on July 16th (1952). It was hoped that sufficient money would be raised to fund the black out of one room so that the Film Strip Projector provided by the Local Education Authority in 1950 could be used.
The Headmaster congratulated several pupils for their good attendance.
Updates on the progress of "Old Scholars" were also provided by the Headmaster.
S. S. was among the children who went on the School Trip to Windsor on Friday 30th May and an expansive account of the day was given.
The District Sports were held in Wymondham on 28th May (1952) with 18 schools competing, including Watton, Attleborough and Old Buckenham. Great Ellingham School participated in 36 of the 66 events.
Three pupils were selected to go to Yarmouth to represent the Hingham and Watton District Sports. H.S. gained 2nd place in the 90 yards boys under 12; G.C. gained 3rd place in the Relay 70 yards girls under 12; D.Y. 1st place Relay 80 yards boys under 11 and H.S. 3rd place Relay 90 yards boys under 12.
The Magazine stated that since September 1951, nearly 17,000 meals had been served in the school canteen. A sample menu served by the School Canteen for the week ending 20th June 1952 was also included as follows:
Monday. Minced Beef Patty with Potatoes and Cabbage. Stewed fruit and custard
Tuesday. Hot Roast Joint with Potatoes and Carrots. Chocolate Flan and Town House cream
Wednesday. Cold Meat with Potatoes and Salad. Steamed Sponge Pudding and custard
Thursday. Beef Stew with Potatoes. Jam Tart and custard
Friday. Cheese Flan with Potatoes and Peas. Date Crunch and custard
The Sports Report referred to the Netball Team and Football Team. The results appear to relate to the Football Team who had played 11 matches (season 1951-1952), lost 7, won 3 and drew 1.
The Magazine included a Quiz. 25 general knowledge questions with the answers also included (on another page).
Source: Great Ellingham School Magazine July 1952