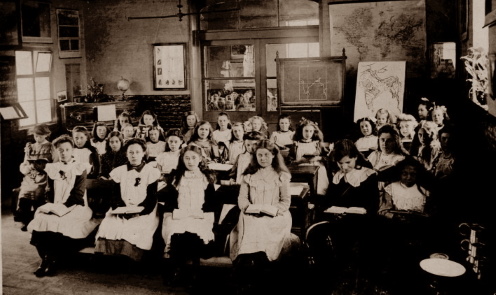 Great Ellingham School (Girls) possibly early 1900s. Are the boys in the adjacent classroom? Photograph courtesy of Ray Beales
The 1906 annual prize distribution to scholars attending the Great Ellingham Board School took place during the middle of December.
The Norfolk Chronicle & Norwich Gazette reported that the prizes were given out by Mr W Downes of Berry-hall (Bury Hall).
Unfortunately, some of the scholars had lost their medals through outbreaks of mumps. However, in spite of this, the scholars had done very well and 29 certificates and 7 medals had been gained. This included a gilt medal presented to Mildred Wilkins for three years' perfect attendance.
Mildred Wilkins
Mildred was 10 years old when she received the gilt medal in 1906. The daughter of Walter and Mary Wilkins, Mildred Blanche Wilkins was baptised in the Church of St James on December 6th, 1896.
The 1901 census captures the Wilkins family living in Attleborough Road, Great Ellingham: 30 year old Walter Wilkins, his wife Mary (aged 31) and children Bruce aged 8 and four year old Mildred. All were born in Great Ellingham.
Ten years later, the 1911 census shows the family still living in Attleborough Road. This particular census provides us with additional information. Their home comprised of four rooms – this included any kitchen but did not include rooms such as a scullery or bathroom. The census also confirms that Walter and Mary Wilkins had completed 19 years of marriage and that they had two children both of whom were still alive.
On both the census of 1901 and 1911 census, Walter gives his occupation as a postman. However the baptism entry in the Parish Registers for Bruce (in 1893) shows that Walter was previously a butcher.
The surname Wilkins is common to the Parish Registers of the Church of St James.
1913: Certificate for Regular Attendance Awarded to George W Edwards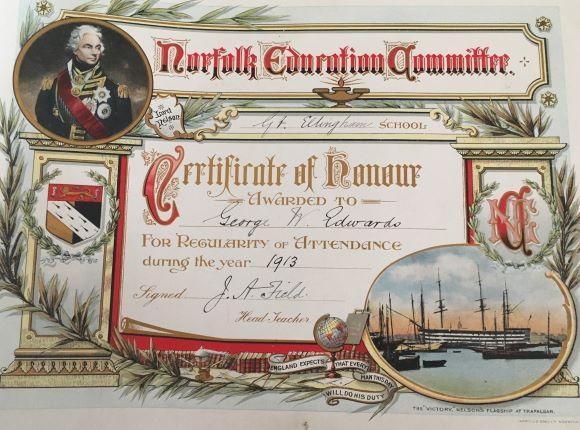 Great Ellingham School Certificate Awarded to George W Edwards 1913.
Courtesy of Cyril Edwards
The above Certificate of Honor for regular attendance at Great Ellingham School during the year 1913 was awarded to George W Edwards. It is likely that the Certificate is very similar to the Certificates distributed by the school in 1906.
George W Edwards was one of seven children born to George William Edwards and his wife Elizabeth (nee Lincoln). The 1911 census finds 27 year old George Edwards, a farm labourer, with his 30 year old wife Elizabeth and children Alice 7, George William 5, Jeremiah 4 and two month old Florence at Tanyard Farm Cottages, Great Ellingham. They were all born in Great Ellingham. Sadly, the census tells us that three children of George and Elizabeth had died.
Sources:
Great Ellingham Parish Registers Norfolk Record Office PD/609
Norfolk Chronicle & Norwich Gazette December 22nd, 1906
1901 census RG13/1867/82
1911 census RG14/11473/142, RG14/11473/2